Heaven's Design Team 1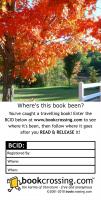 Registered by

GoryDetails

of
Nashua
,
New Hampshire
USA on 2/27/2021

This Book is Currently in the Wild!
1 journaler for this copy...

Journal Entry
1
by

GoryDetails

from
Nashua
,
New Hampshire
USA on Saturday, February 27, 2021
I got this softcover manga at Barnes and Noble. [I was tickled to see this series; I've long speculated on whether the reasons behind some of the more bizarre biologies on Earth had to do with some celestial team of grad students competing for who could form the wackiest life form that could survive the longest! In this case it's more of an outsourcing arrangement than grad students, but the vibe is very much what I imagined decades ago.]
And I really enjoyed the book (and the anime, see link below)! It mixes humor with science - indeed, there are segments from "the encyclopedia of real animals" which include photos of the creatures "developed" in the stories. The design team consists of characters with quirks of their own - the guy who designed the horse and now tries to give every new creature a horse-esque style (sometimes this works: seahorses, for example; more often it does not, for reasons which the engineer who builds the prototypes is happy to point out); the tiny girl who loves cute things (but for whom "cute" means "poisonous and/or cannibalistic"); the big bearded guy who really does go for things that most of us would see as cute and cuddly - and more.
In this volume we see the development of the snake, an optimized predator of bird eggs, leading to an escalating battle between the designer of the snake and of the birds; eventually the bird-designer comes up with weaver-birds whose nests are built to make it extremely difficult for snakes to reach. And as if that isn't enough, our bird-designer comes up with a bird that preys on snakes: cue the secretary bird! (I got to see one of those in the flesh on a trip to Kenya long ago - quite spectacular in the wild.)
The request for an "adorably uncute" creature results in the koala bear, with some truly fascinating tidbits about how its exclusive diet of leaves that other creatures won't touch affects its lifestyle and habits in other ways.
Oh, and the designer who likes to design for best flavor - he'll try and taste EVERYTHING - learns how fast-twitch muscles aren't as tasty as slow-twitch muscles, and notes that this means that marathon runners are tastier than short-distance sprinters, which rather upsets the angel who brings them their assignments.
Sea cucumbers, glyptodonts, the challenges of growing horns (the horse-guy wants unicorns; there are some diverting bits as to why this wouldn't work out), another duel between designers, this time involving squid and dolphins (it escalates to the largest possible forms of both, with spectacular results)... It's very entertaining, and educational as well. [And when the gang attempts to put all their best ideas into one creature and they come up with something very much resembling Cthulhu, I had to give them a rousing cheer!]
[There's a
TV Tropes page
on the series, with some entertaining tidbits. And the
anime adaptation
is quite charming!]
See also:
Volume 2
Volume 3
Volume 4
---

Journal Entry
2
by

GoryDetails

at
Little Free Library, High St in Dunstable, Massachusetts USA on Wednesday, March 03, 2021
Released 1 mo ago (3/3/2021 UTC) at Little Free Library, High St in Dunstable, Massachusetts USA
WILD RELEASE NOTES:

Guidelines for safely visiting and stocking Little Free Libraries during the COVID-19 pandemic, from the LFL site
here
.
I left this book in the Little Free Library; hope someone enjoys it!
[See other recent releases in MA
here
.]
*** Released for the
2021 Oh the Places We Can Go
challenge. ***
*** Released for the
2021 TV Series challenge
. ***
---