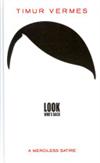 Look Who's Back
Registered by
Staxman

of
Seattle
,
Washington
USA on 1/24/2021
This book is in a Controlled Release!
2 journalers for this copy...
Journal Entry
1
by
Staxman

from
Seattle
,
Washington
USA on Sunday, January 24, 2021
Narrated in the first person by Hitler--yes, that Hitler. He wakes up in a Berlin park in September 2011. His uniform is a bit dirty, but apparently he's been doing a Rip Van Winkle act and hasn't aged in 66 years.

He goes on to get a Youtube channel and a comedy show on TV. People think he's a Hitler impersonator (which apparently is a thing in Germany) who stays in character at all times. No one believes that he's the real deal--after all, didn't he shoot himself in the bunker in 1945? It's clear from many of his comments that he never realizes that people don't know that he's the real deal.

The Rip Van Winkle angle is used quite a bit, but not excessively. Being chauffeured around Berlin, he observes that Herr Starbuck has many coffee shops. He terms Angela Merkel a "bourgeois hen." When he gets a mobile phone, he likens the ringtone to a drunken clown playing a xylophone. His personal assistant changes it to Wagner's "Ride of the Valkyries," which he likes much better.

Putting words in Hitler's mouth 70-odd years after his death is a neat trick, of course. But everything he says sounds plausible. Naturally, he's utterly confident of the rightness of his political ideas and of his skills at implementing them. But then the history books tell us that he blamed Germany's defeat on the German people, not on himself.

If the author had proposed this book to me, I would have said that the basic conceit was clever, but he wouldn't be able to sustain it for an entire book. I would have been wrong. Very good satire. The book has an appendix on German culture and German comedy in particular, which is helpful for non-Germans like me.

I appreciate good graphic design, and I like the way the cover art incorporates the title into his mustache!
---
Mailed to mcsar in the Vancouver, B.C., area.
---

The book has arrived. Thank you. I look forward to reading it and will slot it into the reading pile. I almost forgot it is a bookray.
---

Thank you for sharing this as a bookray. This satire is very well done and so very fun to read. The author really sustains the premise throughout the book and makes it very believable.

The book will wait a few days for its travelling companion before they make the long trip together to meet the next reader in France.
---

Starting its long journey to France today. Safe travels.
---