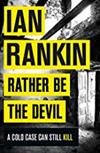 Rather be the Devil
2 journalers for this copy...

From the Publisher
John Rebus can't close the door on the death of glamorous socialite Maria Turquand. Brutally murdered in her hotel room forty years ago, her killer has never been found.

Meanwhile, Edinburgh's dark heart is up for grabs. Young pretender Darryl Christie may have staked his claim on the city's underworld - but has criminal mastermind and Rebus' long-time adversary, Big Ger Cafferty, really settled down to a quiet retirement? Or is he hiding in the shadows until Edinburgh is once more ripe for the picking?

---

Journal Entry
2
by
Cassiopaeia
at
Cardiff, Wales United Kingdom on Sunday, January 3, 2021
Rebus Book No 21
Suddenly realized that I wasn't up to date with Rebus, therefore was delighted to receive this on as a Christmas present. A really good read, Big Ger back in form, what more needs to be said. Off to order no 22!
---

Journal Entry
3
by
Cassiopaeia
at
Cardiff, Wales United Kingdom on Thursday, May 13, 2021
On the way tp Dolph1n.
Thanks for finding this book
Please write a journal entry letting me know that this book was caught and has found a safe home with you. (It's anonymous, and you don't have to join Bookcrossing to do it.) Then read this book or give it to a friend. Afterwards hopefully, you or your friend will release it again for someone else to find - just like you did.
If you are new to Bookcrossing and would like to join, please give
Cassiopaeia
or any other journaler as your
referral member
. Enjoy your book and when you have finished reading come back here and let us know when and where you will pass the book on to another reader. Write a review if you like, then release it and come back anytime to see what happened to it next.
Happy reading.
---
Thank you for this book. I've read a couple of Rebus books and enjoyed them.
---
I am so pleased that Rebus is back, despite his retirement.
I hope him and Big Ger will still be battling each other for many more years.
Great book.
---