The Taking of Annie Thorne
Registered by

Tanamo

of
Hinckley
,
Leicestershire
United Kingdom on 12/2/2020

This Book is Currently in the Wild!
3 journalers for this copy...
Journal Entry
1
by

Tanamo

from
Hinckley
,
Leicestershire
United Kingdom on Wednesday, December 2, 2020
One night, my little sister went missing. There were searches, appeals. Everyone thought the worst. And then, miraculously, she came back.
She couldn't, or wouldn't, say what had happened. But she wasn't the same afterwards. She wasn't my Annie. Sometimes, my own little sister scared me to death.
Then the e-mail arrives in my in-box. "I know what happened to your sister. It's happening again ....."
---
A cleverly plotted, creepy tale about a very brave teacher - a teacher who goes back to a place he should have kept away from but then he wants to make a difference, always has, and some how, despite everything, he still does. He even has a sense of humour, dark though it is. The ending is good, plausible even, and deftly leaves the way open for more tales.
---
Released 7 mos ago (3/29/2021 UTC) at London, Greater London United Kingdom
CONTROLLED RELEASE NOTES:
Mailed to another bookcrosser via the wishlist tag game.
---

Got it - thanks.
It's going to the side of my bed on the TBR pile. I'd better stop watching TV for a bit if this mountain's ever gonna get smaller.
---

Well I should have guessed when I saw that the author is described as "Britain's female Stephen King" that this wouldn't be a straightfoward thriller.
Unfortunately there is "being inspired by" and "ripping off" and this book shamelessly falls into the latter category.
If you've read Pet Sematary you'll recognise a big chunk of this book, albeit slightly changed, so don't bother. If not, give it a try.
It's nicely written, easy to read with interesting, well rounded characters and won't tax your brain too much.
---

Bookmooch Release

Posted from London, UK to York, UK to monkeygirl, another UK member of www.bookmooch.com. Hope it arrives safely.

Bookmooch is an international book swap site and it's simple to use.

List the books you want to give away, send them to users who want them, get other books in return.

Go on, sign up now. You know you want to !
---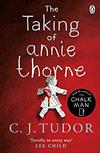 Arrived in the post today - many thanks! And I've not read Pet Cemetery, so I should be all right with this one?!
---
This was a quick, addictive read and quite entertaining, but once read I don't think would be one for a second read. The premise is that Joe Thorne's little sister went missing when she was about 8, was gone two days then turned up again. And would never say where she'd been. And as far as he was concerned, it wasn't his sister, Annie, who came back....

Of course all that happened in the past as we now have a cynical, alcoholic and debt riddled adult Joe Thorne. So the past is told to us through a lot of flashbacks, as well as the present where he has returned to the depressing hole of a village, Arnhill, in the Midlands, where he grew up. And he's a new teacher at the secondary school he went to. If you get away, you don't go back. Why does he turn up again? Various reasons you'll find out about in the book, but the first is that he gets an anonymous email saying I know what happened to your sister, and it's happening again...

I found the entire atmosphere and characters utterly depressing. This is an ex mining village that feels very insular from the rest of the world, especially all the kids who grew up and never left. Family traits are handed down, so the village bullies go in generations. And there's a lot about the bullying going on at the school, in particular the vile Hurst family. And I know it's fiction, but it's so true to life that it's depressing to think of these cyclical moron families that just keep getting away with it, and the generations of children they make miserable. And then there's little sister Annie and the whole story with her was so sad. I keep thinking of this poor little girl in her pink sheep pyjamas carrying her little dolly about.

I think the aim of the book was probably to terrify me rather than depress me though! There is a paranormal element connected to the mines. Which isn't really explained as to the why the heck it was there, what it was doing exactly... which in some ways was good as it can get very tired quick when an author feels the need to explain everything away to the nth degree. But because it was kind of slapped in like that it didn't feel believeable in some ways, just a bit silly. Perhaps this was just me wanting/imagining something more from the plot that wasn't going to come.
---
Journal Entry
9
by
Apechild
at
Nether Poppleton Little Book Exchange in Poppleton , North Yorkshire United Kingdom on Friday, September 17, 2021
Released 1 mo ago (9/17/2021 UTC) at Nether Poppleton Little Book Exchange in Poppleton , North Yorkshire United Kingdom
WILD RELEASE NOTES:
I left this book with several others at the Poppleton Little Book Exchange this morning (also took 3 other books away with me).
---