False Value
Registered by

Tanamo

of
Hinckley
,
Leicestershire
United Kingdom on 12/2/2020
3 journalers for this copy...
Journal Entry
1
by

Tanamo

from
Hinckley
,
Leicestershire
United Kingdom on Wednesday, December 2, 2020
Peter Grant was once the Met Police's first trainee wizard - yes, they exist - in fifty years. Now, he's facing fatherhood and a new job, with equal amounts of panic and enthusiasm. Leaving his old police life behind, he joins Silicon Valley tech genius Terence Skinner's new London start-up: The Serious Cybernetics Corporation.
Drawn into the orbit of Old Street's famous 'silicon roundabout', Peter thinks it should be a doddle compared to his last job. But he doesn't know that a secret is hiding in the building.
A secret that stretches back to Lovelace and Babbage, and forward to the future of artificial intelligence. A secret that is just as magical as it is technological - and twice as dangerous.....
---
Not as engrossing as previous novels in this series IMHO. I think the author is struggling to find new scenarios for his main character and it's starting to get a little same old, same old.
---
Journal Entry
3
by

Tanamo

at
Berlin (irgendwo/somewhere), Berlin Germany on Wednesday, March 31, 2021
Released 2 mos ago (4/1/2021 UTC) at Berlin (irgendwo/somewhere), Berlin Germany
CONTROLLED RELEASE NOTES:
Mailed to another bookcrosser via the wishlist tag game.
---


Thank you!
I expected that sooner or later he'd run out of good ideas, it started feeling like it in his last novels. I suggest Aaronovitch come over to Berlin and write a Rivers of Berlin book. Recently I took a long walk along the riverlet Panke (tributary to the Spree river) in the northern part of Berlin - and wondered about the river goddess in charge.
---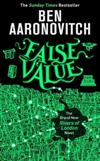 Yes, this was a bit of a drag at times. I started skimming lines rather early, because there is so much sidetracking, and sometimes I found it just too descriptive and detailed, too much irrelevant stuff going on that didn't bring the plot forward. The references to the Hitchhiker were funny first, but soon too much. However, what I enjoyed was the Ada Lovelace connection - I love it when she turns up, just like in the Doctor Who episode Spyfall.
---


Wishlist book for kittybrombeere.
Happy reading!
---

Journal Entry
7
by

kittybrombeere

at
Dossenheim, Baden-Württemberg Germany on Sunday, May 16, 2021
Thank you very much for my Wishlist book. I will have to finish "Broken Homes" before reading this one.
---