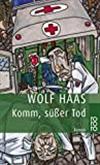 Komm, süßer Tod
3 journalers for this copy...

---

Journal Entry
2
by
eligi
at
Salzkammergut-Treffen in Gmunden, Oberösterreich Austria on Sunday, July 4, 2021
Released 10 mos ago (7/8/2021 UTC) at Salzkammergut-Treffen in Gmunden, Oberösterreich Austria
WILD RELEASE NOTES:
zum Salzkammerguttreffen 9.-11.7.2021 in Gmunden


Liebe Finderin, lieber Finder,

herzlichen Glückwunsch, du hast ein reisendes Buch gefunden!
Ich hoffe, es gefällt dir.

Gerne gebe ich das Buch in den BC-Kreislauf. Daher freut es mich, wenn du einen Journal-Eintrag machst, damit ich weiß wo das Buch gerade ist und was du damit vor hast.
Wenn dir die Idee von Bookcrossing gefällt, kannst du dich bei Bookcrossing registrieren, das ist kostenlos und anonym. Du kannst dadurch den weiteren Weg dieses Buches verfolgen.

In Österreich gibt es ein eigenes Bookcrossing-Forum:
http://bcat.a-z.in/forum
dort gibt es Hilfe bei Fragen und Infos zu Bookcrossing und auch der Spaß kommt nicht zu kurz.

Viele erholsame Stunden und Spaß beim Lesen!
bookcrossing - Bücher finden, lesen, weitergeben - ist ein wunderbares Hobby - mach auch mit!


Hello! Bookcrossing is an online community of book lovers dedicated to sharing books with each other and the world at large. We are curious to see how far and wide this book will travel and how its readers like it. Kindly make a journal entry to let us know it's found a new reader.
Feel free to read and keep this book, pass it on to a friend, leave it back or somewhere else for the next reader. If you journal this book as a member, then you will be able to follow the book as it travels around. Happy reading!
---
Beim schönen Salzkammergut-Treffen 2021 in Gmunden durfte ich mir ein österreischisches Buch auswählen; ich nahm mir den Wolf Haas und habe ihn auch gleich gelesen:
Verhängnisvolle Konkurrenz zwischen den Wiener Kreuzrettern und dem Rettungsbund fordert viele Opfer. Eher widerwillig klärt der Rettungsfahrer Brenner die Morde auf, obwohl er kein Schnüffler mehr sein will. Das kurzweilig zu lesende Buch hat mir eine schlaflose Nacht angenehm verkürzt.


---
Journal Entry
4
by

krimtango

at
- Irgendwo in Gmunden in Gmunden, Oberösterreich Austria on Monday, July 12, 2021
Released 10 mos ago (7/11/2021 UTC) at - Irgendwo in Gmunden in Gmunden, Oberösterreich Austria
WILD RELEASE NOTES:
In der Bücherlade an der Schiffsanlegestelle:

Liebe Finderin, lieber Finder,
Herzlichen Glückwunsch, du hast ein freies Buch gefunden. Du kannst es lesen und/oder wieder aussetzen beziehungsweise an andere Interessierte weitergeben. Ganz toll wäre es, wenn du kurz erzählen könntest, wie es dem Buch bisher ergangen ist. Das ist immer anonym und kostenlos und auch ohne Anmeldung möglich!
Nun wünsche ich dir ganz viel Spaß beim Lesen!
Liebe Grüße,
krimtango
---
Das Buch habe ich schon am Montag auf dem Weg zum Seebahnhof in dem Bücherregal gefunden,hatte bisher nur nicht daran gedacht, einen JE zu machen. Wolf Haas gefällt mir sehr, daher musste es gleich mit :-)

---