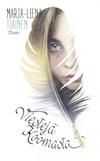 Viestejä koomasta
Registered by
Bookgeo

of
Pirkkala
,
Pirkanmaa / Birkaland
Finland on 8/9/2020
2 journalers for this copy...
Journal Entry
1
by
Bookgeo

from
Pirkkala
,
Pirkanmaa / Birkaland
Finland on Sunday, August 09, 2020
Löytö Juvan kirjaston saa ottaa -kärrystä.

Kovakantinen kirja, Tammi 2016, 210 sivua.

Kustantajan kuvaus:

"Edessä elämä?

Silvan paras kaveri Jemina saa houkuteltua hänet milloin mihinkin. Vakavaksi toilailu muuttuu, kun Silva joutuu pahaan onnettomuuteen ysiluokkaa edeltävänä kesänä. Kavereiden yllyttämänä Silva hyppää sillalta jokeen, lyö päänsä ja on hukkua.

Tyttö havahtuu oudossa paikassa, Koomassa, joka ei tunnu aivan todelliselta. Hän tapaa siellä nuoria kohtalotovereitaan, joiden kaikkien elonliekki uhkaa katketa ennen aikojaan. Silva saa myös tehtäväkseen viedä viestejä eläville. Luokkatoveri Inkerille tämän tätivainaja haluaa lähettää salaperäisen viestin: "Ota kivet pois taskuista". Muutkin viestit ovat tärkeitä, ja ne voivat muuttaa vastaanottajan elämän parempaan suuntaan. Silvan mielessä herää toivo; ehkä hänen onkin tarkoitus jatkaa elämäänsä? Viestithän on vietävä perille! Kun Silva herää sairaalassa tajuttomuuden jälkeen hänen päätään särkee. Mitä oikein on tapahtunut, oliko Kooma kuvittelua tai unta? Vähitellen Silva alkaa muistaa viestejä ja toimittaa niitä vastaanottajilleen. Kun hän yrittää kertoa kokemuksistaan lähipiirilleen, suhtautuminen on lähinnä epäuskoista. Jemina on suorastaan pilkallinen, ja tyttöjen välit katkeavat. Silva haluaa kuitenkin viedä kaikki viestit perille, vaikka se tietäisi hankalia tilanteita. Tapaamisten myötä Silvan oma elämä muuttuu ja hän aikuistuu kovaa vauhtia."
---
Journal Entry
2
by
Bookgeo

at
to fulfill a wish, A RABCK -- Controlled Releases on Sunday, August 09, 2020
Released 1 mo ago (8/11/2020 UTC) at to fulfill a wish, A RABCK -- Controlled Releases
CONTROLLED RELEASE NOTES:

Toivelukemista Peoniolle Helsingin 11.8. miitissä, ole hyvä.
---

Tämä oli teinityttäreni suosikkikirja muutamia vuosia sitten ja hänen suosittelustaan lisäsin sen toivelistalle. Kiitokset toiveen toteuttamisesta Bookgeolle!
---