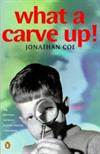 What a Carve Up!
Registered by

over-the-moon

of
Lausanne
,
Vaud
Switzerland on 7/22/2020
1 journaler for this copy...

Journal Entry
1
by

over-the-moon

from
Lausanne
,
Vaud
Switzerland on Wednesday, July 22, 2020
found in the Blécherette book box
---

Journal Entry
2
by

over-the-moon

at
Lausanne, Vaud Switzerland on Wednesday, July 29, 2020
From the title, I was expecting something a bit slapstick...Well it is taken from a 1961 film starring Sid James and Shirley Eaton, on which one scene in particular serves as a leitmotiv throughout. The US title of the film was No Place like Homicide, I wonder if this was used in the US version of the book!
However, this is not a comedy, despite some laugh-out-loud moments.
A rather hapless novelist, Michael Owen, is commissioned to write a book about a prominent Yorkshire family, the Winshaws, whose offspring are variously employed in politics, journalism, armament, pig farming, and so forth, all of them motivated by greed. With the exception of mad Aunt Tabitha who has always been convinced that her brother Godfrey, shot down over Berlin in WWII, was actually killed by their brother Lawrence.
Michael is something of a disaster, addicted to chocolate bars, spilling food down himself - he spent more than two years in his flat not speaking to anyone or doing any cleaning (apart from the kitchen). We find out why, later.

Through the various employments of the main characters, the narrative reveals the changes undergone by the UK since the 1950s, the Thatcher years when everything was privatized, the war with Iraq, the NHS... Some of the scenes are harrowing, even tragic; one chilling comment came from a discussion about stopping school meals with the intention of producing a generation of under-nourished and consequently unintelligent adults who would be easily persuaded to vote for the government.
What happens to the surviving members of the Winshaw family is played out in a take-off of Agatha Christie's Ten Little Indians (as I think it is called now), in the gloomy Gothic Winshaw Towers on the edge of the Yorkshire Moors, with its equally gloomy Gothic butler Pyles - and a similar scenario as in the film of the title.

It is a complicated, disjointed book that jumps around between Michael's life, childhood, dreams, fantasies and memories, chapters of his book, and scenes from the aforementioned film. The family tree at the beginning was useful but I kept getting mixed up in Michael's relationships with Joan, Graham, Phoebe etc.; maybe I should read it again.

Very enjoyable, informative, cleverly satirical and underlyingly horrifying.

I avoided the UK during the Thatcher years and feel glad that I did so.

---

Journal Entry
3
by

over-the-moon

at
Lausanne, Vaud Switzerland on Wednesday, July 29, 2020
I read a few reviews where the book was criticized as being badly written. I think that is missing the point - it is told in several voices and several styles; the difficulty lies in knowing where we are in time and who is narrating, whether it is Michael reminiscing in the first person, extracts from Michael's book, newspaper cuttings, snippets from various diaries, reported conversations, letters and so forth. I can well understand that it must be quite baffling to non-Brits.
---