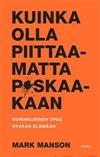 Kuinka olla piittaamatta p*skaakaan - nurinkurinen opas hyvään elämään
2 journalers for this copy...
Pokkari. - suomentanut Aura Nurmi. - Atena, 2020. - 216 sivua ; 18 cm.
Alkuteos: The subtle art of not giving a f*ck, ©2016

www.adlibris.com (13.7.2019):

Meille on aivan liian pitkään tuputettu ajatusta siitä, että positiivisuus on avain onnellisuuteen, mielenrauhaan ja rikkauteen. Paskat! Nyt käsi sydämelle: useimmat jutut maailmassa ja omassa elämässämme ovat päin hemmettiä.

Mark Mansonin kirja on kirpeä vastalääke elämäntaitomössön-sössön-hössötykselle - se on polku jaloon taitoon olla välittämättä hittojakaan. Kaikki ihmiset eivät voi olla edes oman elämänsä supersankareita, vaan meidän pitää hyväksyä puutteemme ja rajoituksemme.

Tämä kirja tarttuu sinua olkapäistä yhtä hienovaraisesti kuin merimies Hampurin sataman kapakassa, ravistelee ja kertoo herkistynein sanakääntein, miten maailma makaa.

Rehellinen, viisas ja häikäilemättömän hauska Kuinka olla piittaamatta p*skaakaan on ollut valtaisa maailmanmenestys. Sitä on myyty reilut kaksi miljoonaa kappaletta, ja se ilmestyy yli 20 kielellä.
---
Released 3 wks ago (4/13/2021 UTC) at Kuopio, Pohjois-Savo / Norra Savolax Finland
CONTROLLED RELEASE NOTES:
Hippasin Väärän kissan päivällä, mutta toinen ehti postittaa ensin. Laitan tilalle toisen toivelistakirjan, vaikka toive onkin englanniksi.
---
Journal Entry
3
by

Piiku

at
Turku, Varsinais-Suomi / Egentliga Finland Finland on Thursday, April 15, 2021
Kiitos sumako toivelistaylläristä!
---