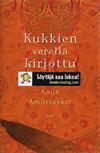 Kukkien verellä kirjottu
Registered by

Tarya

of
Helsinki
,
Uusimaa / Nyland
Finland on 5/13/2020
3 journalers for this copy...

Journal Entry
1
by

Tarya

from
Helsinki
,
Uusimaa / Nyland
Finland on Wednesday, May 13, 2020
Runollinen, aistillisen kaunis tarina 1600-luvun Persiasta

Hän on maalaistyttö, jonka elämä on tarkoitettu polveilemaan tasaista uomaansa tutussa kotikylässä. Kun kohtalo ryhtyy julmaan leikkiin, hän päätyy miesten hallitsemaan lankojen, värien ja kuvioiden maailmaan ja kehittyy taitavaksi matontekijäksi.

Tytön isän äkillinen kuolema liikauttaa hänen elämänsä raiteiltaan. Hänen on muutettava äitinsä kanssa Isfahanin kaupunkiin, palvelijaksi sukulaisperheeseen, jossa heidän asemansa on alhaisista alhaisin. Sedältään, šaahin mattomestarilta, tyttö onnistuu kuitenkin oppimaan suunnittelun ja kudonnan taidon ja alkaa tehdä omaa mattoa, mikä näyttää olevan ainoa tie ulos kurjuudesta. Onni ei vain vieläkään hymyile tytölle vaan hän joutuu väliaikaiseksi vaimoksi miehelle, joka pitää häntä pelkkänä kauppatavarana. Lahjakkaan ja omapäisen nuoren naisen on kerättävä koko neuvokkuutensa ja rohkeutensa vapautuakseen orjan asemasta ja löytääkseen itselleen uuden tien.

Englanninkielinen alkuteos: The Blood of Flowers (2007)
Suomentanut: Hanna Tarkka

WSOY 2008
---

---
Uppistakeikkaa, on jäänyt rekkaamatta saaduksi... jos nyt tilastojen vuoksi laittas :)
---
Valikoitui luettavaksi Helmet-haasteen takia, sillä päähenkilön nimeä ei mainita.

Lempeä, surullinen, kaunis, toiveikas tarina aivan eri ajasta ja yhteiskunnasta, kuin missä itse elän. Lopussa saattoi jo huokaista helpotuksesta.
---
Kirja lähtee postitse/matkahuolloitse Kolmoishaasteen voittajalle :) Onnea!
---

Kiitos! Tämä vaikuttaa kiinnostavalta kuten ne 8 muutakin kirjaa, jotka sain palkinnoksi. Kyllä kannatti sinnikkäästi kirjata kaikki haasteeseen sopineet kirjat muistiin.
---