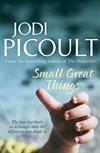 Small Great Things
2 journalers for this copy...

Ruth Jefferson is a labor and delivery nurse at a Connecticut hospital with more than twenty years' experience. During her shift, Ruth begins a routine checkup on a newborn, only to be told a few minutes later that she's been reassigned to another patient. The parents are white supremacists and don't want Ruth, who is African American, to touch their child. The hospital complies with their request, but the next day, the baby goes into cardiac distress while Ruth is alone in the nursery. Does she obey orders or does she intervene?

Ruth hesitates before performing CPR and, as a result, is charged with a serious crime. Kennedy McQuarrie, a white public defender, takes her case but gives unexpected advice: Kennedy insists that mentioning race in the courtroom is not a winning strategy. Conflicted by Kennedy's counsel, Ruth tries to keep life as normal as possible for her family—especially her teenage son—as the case becomes a media sensation. As the trial moves forward, Ruth and Kennedy must gain each other's trust, and come to see that what they've been taught their whole lives about others—and themselves—might be wrong.
---

Journal Entry
2
by
xtrdnry
at
SI Cafe in Templestowe, Victoria Australia on Wednesday, July 01, 2020
To the finder of this book:
Hello and congratulations! You have not only found yourself a good book, but a whole community of booklovers dedicated to sharing books with each other and the world at large. I hope you'll stick around a bit and get to know BookCrossing --maybe even make a journal entry on this book. You may choose to remain anonymous or to join (its free!)
Feel free to read and keep this book, or to pass it on to a friend or even set it out "in the wild" for someone else to find like you did. If you do choose to join and journal, then you can watch the book as it travels- You'll be alerted by email each time someone makes another journal entry. It's all confidential (you're known only by your screen name and no one is ever given your e-mail address), free, and spam-free. Happy reading!

---

---