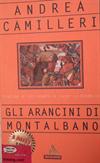 GLI ARANCINI DI MONTALBANO
Registered by

kirjakko

of
Helsinki
,
Uusimaa / Nyland
Finland on 3/11/2020
2 journalers for this copy...

Journal Entry
1
by

kirjakko

from
Helsinki
,
Uusimaa / Nyland
Finland on Wednesday, March 11, 2020
Picked up from the exchange shelf of the Library of Vuosaari in Helsinki. I don't speak Italian, but I am planning to travel there in September, if the corona virus hysteria has died down. Italia seems to be the most affected European country at the moment, over 600 dead.
---

As there won't be a trip to Italy this year (the number of Corona deaths there is over 33 500), I'm finding the book a new home. Enjoy!
---

Thank you very much for the book, Kirjakko! I read this book in 2004 and I have been sorry that I gave the book away - in fact two copies. At that time I was able to journal in Italian:
"Quando ho trovato il libro nella libreria ero tutta eccitata perchè aveva già visto qualche film di Montalbano. Ho cominciato leggere il libro lì e sorprendendomi alle prime parole in dialetto siciliano. Avevo già sentito parlare del modo di scrivere di Camilleri ma non avevo mai letto qualcosa di suo. Ho letto solo due o tre libri in italiano. Direi che il dialetto siciliano non è facile di capire per non-italiano.
Per me è stata una cosa inaspettata anche il fatto che non si trattasse di un caso unico ma di uno diverso per ogni capitolo.
11.9.2004 Io sono brava - bravissimo! Ho letto tutto il libro. A me è piaciuto molto. Fortunatamente io ho ancora due altri libri di Montalbano - in italiano."



---


I remember the last episody: Gli arancini di Montalbano. After having eaten those riceballs in Sicily I wanted to read those pages again and now it is possible. In fact I read them yesterday evening. I think I'll read the whole book. Now I understand Italian much better than 16 years ago, even if I can't write it. Well, I could use the Google translator as a base and correct myself the worst errors. In Taormina the arancini were not balls but more like cones as the Mount Etna.
---