Rush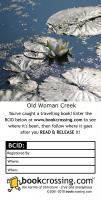 Registered by

minesayn

of
Huron
,
Ohio
USA on 4/14/2020
2 journalers for this copy...

"No two persons ever read the same book."--Edmund Wilson

By registering this book, I am sharing this book with the wider world--enjoy!

You know Franklin; you know Adams: you know Hancock and Dickinson, but do you recall the least famous Founder of all? (Sung off-key to the tune of Rudolph, the Red-nosed Reindeer.

It very well may be that Benjamin Rush has escaped most Americans' scrutiny, yet he is still a fascinating member of the Continental Congress, who signed the Declaration of Independence. He was one of the delegates to Pennsylvania along with Benjamin Franklin.

When Rush first met John Adams, he was only twenty-eight and not a member of the Continental Congress; however, he was a doctor of some renown already, and well versed in the political climate (both pro and con), religion, philosophy, and medicine,

Eventually, he became a delegate to the Congress and one of the signers in 1776. Though he was one of the youngest signers, at age thirty, he also was one of the most visionary members (especially considering how stiff his competition was).

He was quite the writer having published many works on medicine and was known as the "American Hippocrates." He not only wrote medical textbooks; he also wrote political pamphlets. He was progressive even vocally championing the end to slavery, the end of capital punishment, and the end to prejudice by race, religion, or gender (issues that still spark argument today) and because of this, he was often a thorn in the sides of less progressive leaders (the American political establishment).

This biography is well researched and documented as evidenced by over sixty pages of notes and bibliography. Interspersing information about Benjamin Rush, his family, and the men who helped found this nation is the correspondence, the letters to and from Rush. Much is made of his ongoing friendships with both John Adams and Thomas Jefferson, and even to the extent, that he was instrumental in getting the former friends back together after years of disagreements with each other.

He was one of the first physicians to be concerned about the treatment of the mentally ill. So much so, that the first hospital for mentally ill patients was built in Philadelphia at his urging; he truly brought patients out of the dungeon where many mentally ill patients were abandoned. He even published Medical Inquiries and Observations, upon the Diseases of the Mind. Unfortunately, one of his sons, John Rush, spent years there in the wing of this hospital.

Rush was not without controversy, however. The contents of his letters often fell into the wrong hands, and he even made enemies, the biggest being George Washington. According to this text, this split between the men over something Rush had written about Washington was never resolved, the apology never accepted.

From the beginnings of the call for independence to the battles of the American Revolution to the end of his life, this is a deep, fascinating read of a man with whom few may be familiar. This really opened this reader's eyes to the man behind the signature. Fried has produced quite a biography of a man who was a physician, a philosopher, a family man, and a man of deep faith. Fried also speaks candidly about his sons and daughters, and not all was perfect within his family. Still, like their father, they, too, play a part in the early years of the nation. It is not an easy read; it takes time to digest all the information within the pages, but it is worth reading.

While Adams, Jefferson, and Washington are a few of the men most easily recognized with the founding of this country, Benjamin Rush belongs in that group as well.

One of the quotes which this pedometer geek found to be of interest (because of the political climate right now) is as follows:
"I entreat [my sons] to take no public or active part in the disputes of their country beyond a vote at an election. If no scruples of conscience forbid them to bear arms, I would recommend to them rather to be soldiers than politicians…In battle men kill, without hating each other; in political contests men hate without killing, but in that hatred they commit murder every hour of their lives." (Page 431)






---

"No two persons ever read the same book."--Edmund Wilson

Sharing this book with the wider world--enjoy!
I have either registered it, or received it from another person who is willing to share it, too. Consider logging onto www.bookcrossing.com and letting us know where it is been and where it is going next. It can be done anonymously or join the site as a member.

Included in this ARC giveaway box...hope you find something to your liking. Happy travels little book.
---

I am really excited to be able to read the book RUSH by Stephen Fried. It looks like a very interesting book. Thank you for sharing it with me minesayn in your ARK box.
---