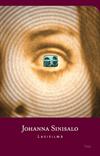 Lasisilmä
Registered by
Bookgeo

of
Pirkkala
,
Pirkanmaa / Birkaland
Finland on 2/10/2020
2 journalers for this copy...
Journal Entry
1
by
Bookgeo

from
Pirkkala
,
Pirkanmaa / Birkaland
Finland on Monday, February 10, 2020

Kovakantinen kirja, Kustannusosakeyhtiö Teos 2006, 329 sivua.

Takakannesta:

"Taru tahtoo toimittajaksi, koska toimittaja etsii totuutta. Hän löytääkin tiensä mediamaailmaan, mutta tajuntateollisuuden siihen lokeroon, jossa totuus ei ole pelkästään suhteellista vaan kokonaan keksittyä.

Lähiö on huippusuosittu jatkuvajuoninen televisiosarja, miljoonan ihmisen kollektiivinen päiväuni. Lähiön kirjoittajatiimistä ja sarjan henkilöistä tulee Tarun uusi perhe, jossa mielikuvitushahmotkin ovat käsinkosketeltavan todellisia. Samaan aikaan tiiviissä, luovassa työyhteisössä tuntuvat vallitsevan aivan omanlaisensa viidakon lait. Fiktion ja faktan raja alkaa hämärtyä.

Onko kaikilla ihmissuhteilla kätketty tarkoitus? Miten tulkitaan maailmaa, jossa kaikki tulkitsevat toisiaan, ja kaikki inhimillinen on luovan työskentelyn materiaalia ja polttoainetta? Ja ennen kaikkea - jos saa kuvitteellisen ihmisen tanssimaan mielensä mukaan muutamalla sormen liikkeellä, eikö ala haluta tehdä saman todellisille ihmisille?

Johanna Sinisalo on kirjoittanut säälimättömän psykologisen trillerin lumetodellisuuksien rakentajista, maailman tulkitsemisen labyrinteistä, vallasta, vastuusta ja uskomusjärjestelmistä."
---
Journal Entry
2
by
Bookgeo

at
to fulfill a wish, RABCK -- Controlled Releases on Wednesday, February 19, 2020
Released 1 mo ago (2/20/2020 UTC) at to fulfill a wish, RABCK -- Controlled Releases
CONTROLLED RELEASE NOTES:
Toivelistalukemista Smabbelle, ole hyvä!
---
Kiitos Bookgeo toivelistakirjasta :)
---