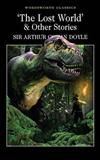 The Lost World and Other Stories
Registered by

Delphi_Reader

of
Δελφοί - Delphi
,
Fokida
Greece on 1/28/2020
2 journalers for this copy...

Journal Entry
1
by

Delphi_Reader

from
Δελφοί - Delphi
,
Fokida
Greece on Tuesday, January 28, 2020

This book starts its journey with BookCrossing from Delphi, Greece
______________________________________________________
" With a new Introduction by Cedric Watts, M.A., Ph.D., Research Professor of English, University of Sussex.
These lively, varied and thought-provoking science-fiction stories (from the era of Jules Verne and H. G. Wells) are linked by their imposing central character, the pugnaciously adventurous and outrageous Professor Challenger. The Lost World (forebear of Jurassic Park) vividly depicts a perilous region in which the explorers confront creatures from the prehistoric era. The Poison Belt presents an eerie doomsday scenario, while The Disintegration Machine satirically comments on scientific cynicism. In When the World Screamed, the planet responds violently to an experimental incursion. The strangest item is The Land of Mist, which seeks to reconcile science with spiritualism.
This memorable collection provides imaginative entertainment, entrancing escapism and bold provocation. "
~~~~~~To the person who found this book:~~~~~~
Welcome to BookCrossing.com, where we are trying to make the whole world a library!
If you have not already done so, please make a journal entry so we know this book has found a new home. Drop a few lines on where and how you found this book and what you thought of it. You don't need to join BookCrossing and you can remain completely anonymous. However, I encourage you to join so that you can follow this book's future travels. It's fun and free, and your personal information will never be shared or sold.
This book is now yours, and you can keep it if you choose, although I would love you to read and then share it. You can pass it on someone you know or release it once again in the wild, leaving it on a park bench, a phone booth, a hostel lobby...wherever you think it's suitable for the book to continue it's journey. If you pass it along, please make a release note to let others know where you left it.
I hope you enjoy the book!
---

Journal Entry
2
by

Delphi_Reader

at
Δελφοί - Delphi, Fokida Greece on Monday, April 13, 2020

This book contains all 5 stories related to Professor Challenger.
The Lost World
Setting aside all the irking beliefs of the era about white man's superiority, gentle heritage, inferiority of women, man's supremacy on nature and so on, this is a very entertaining story, Jules Verne-style. Everything is over the top, but the opening and closing chapters have an amazing comedy quality, starring the unique Professor Challenger, while the intermediate chapters offer a unique adventure due to the nice combination of the four heroes and the clever handling of the author for the narration, having Edward Malone narrating the whole story. A very nice fantasy and adventure novel. I wish Arthus Conan Doyle would continue along the same tracks but...
The Poison Belt
This is a dystopian story à la H.G. Wells, on a quite different and more melancholic tone. The quartet" meets again, but the circumstances offer no leeway for much action. Edward Malone narrates the developments and contemplates on the situation along with his dear friends, offering lots of food for thought. An interesting read, but very different to the Lost World.
The Land of Mist
What a disappointment! And where do I start? Narration point swifts to the author rather than Malone here. The author kills Professor Summerlee, kills Mrs Challenger who we met on the two previous stories, introduces Challenger's daughter Enid, Lord John Roxton makes only a quick appearance, while Edward Malone gets a keen interest on spiritualism and falls in love with Enid. I don't really write spoilers here, because one can easily see where everything goes. Professor Challenger appears only at the start and the end of the book to serve as an excuse for the skeleton plot. In reality there is no plot, the whole story is a pretext for Arthur Conan Doyle to stand on his shoe box and preach the readers about spiritualism. The novel feels like a losely linked series of lectures, séances, biased opinions and spiritualistic meetings, where the same persons come and go. By far the worst story of the book and maybe of all things Doyle ever wrote!
The Disintegration Machine
This is the fifth and last story with Professor Challenger. I don't know why the editors decided to place it before the When the World Screamed. It is a very short, entertaining story, where the author re-established the Professor closer to the character we met on the Lost World. It is a decent, quick read, but nothing extraordinary.
When the World Screamed
This is a short story with a sharp end, Professor Challenger takes the role of a (mad or genious?) scientist and inventor rather than of an explorer per ce, but here comes again his great belief on his self, his snobbism, irony and intolerance for others, the comedy (for the reader) element that we loved on the Lost World, of course along with his amazing intelligence and errorless instict. A minor fact, but by a turn of phrase, Mrs Challenger seems to be alive again too? This story isn't great, but it's entertaining non the less.
The Lost World 9/10
The Poison Belt 7/10
The Land of Mist 3/10
The Disintegration Machine 6/10
When the World Screamed 7/10
---

Journal Entry
3
by

Delphi_Reader

at
First Sentences VBB, A Bookbox -- Controlled Releases on Wednesday, July 01, 2020
Released 1 mo ago (7/1/2020 UTC) at First Sentences VBB, A Bookbox -- Controlled Releases
CONTROLLED RELEASE NOTES:

This book is now travelling to Finland. And then... Who knows?
Good Luck little book and Don't forget to write your news from time to time!
First Sentence: Mr Hungerton, her father, really was the most tactless person upon earth - a fluffy, feathery, untidy cockatoo of a man, perfectly good-natured, but absolutely centered upon his own silly self.
---

Journal Entry
4
by

Soozreader

at
Joensuu, Pohjois-Karjala / Norra Karelen Finland on Wednesday, July 22, 2020
Thank you very much for this book I chose by its first sentence!
---