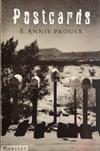 Postcards
Registered by

herchelle

of
Calgary
,
Alberta
Canada on 1/17/2020
3 journalers for this copy...

I am halfway through this book and never realized that I hadn't registered this book.
Postcards is the story of Loyal Blood, a man who spends a lifetime on the run from a crime so terrible that it renders him forever incapable of touching a woman.
Thank you for catching this book and coming here to see its journal!
To me, it's important to be sure this book is in (your!) good hands. Please, let me know that you've found it. I'm also interested to know what you thought of it. That's why I ask you to re-visit the site and make another journal entry sharing your thoughts and maybe telling what kind of plans you have for it.

If you are new to BookCrossing, stay in the site a bit longer and enjoy it. You're more than welcome to join the fun and become a member.

HAPPY READING!!!
Many thanks, Herchelle
Calgary, Alberta CANADA
---

I am adding this book to our Travelling Book Box, hope you enjoy this as much as I did!
Welcome to Bookcrossing! The book you are holding is now yours - no strings attached. To let me know it has found a new owner and that it will be enjoyed by a new reader, please consider leaving a message by leaving an entry on this book. You do not need an account to leave a message, however if you consider signing up, you can find out where this book goes and who enjoys it after you.
---
Pulled this out of the Travelling Covid Book Box.
---
This was an unusual book. Felt sad for all the characters. Loyal was an unusual man. he had many talents but just kept on the run, from himself mostly.
---
I am taking this to our Covid friendly backyard meetup (warm chair and blanket are packed!) Small group, so hope I will find a taker. If not, there is always our travelling Covid book boxes.
---
I am putting this in the Covid Book Box that is circulating.
---

Journal Entry
7
by
megami-no-ushi
at
Calgary, Alberta Canada on Saturday, March 19, 2022
Grabbed from the book box!
---