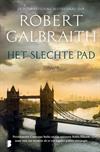 Het slechte pad
3 journalers for this copy...
Niet het beste boek uit de serie maar zeker de moeite waard! Veel leesplezier!

Hallo daar, vinder! Als je dit leest, heb je een boek gevonden.

Gefeliciteerd! Hopelijk is het iets dat je leuk vindt; zo niet, dan heeft het je toch tenminste hier gebracht en dat is ook wat waard. Je mag het boek gerust doorgeven aan iemand anders, of zomaar ergens achterlaten.

Ondertussen was je toch maar mooi nieuwsgierig genoeg om op deze site te
komen kijken en dat vind ik erg leuk. Kijk gerust wat rond. Veel plezier!
U kunt dit boek lezen, eventueel vermelden wat U ervan vond (dit kan anoniem en uiteraard gratis) en daarna weer loslaten "in het wild".

Als je het boek ook wilt volgen dan kun je je het beste aanmelden als nieuwe bookcrosser (Engelse pagina). Ik zou het erg leuk vinden als je mijn naam (Sneeuws) wilt invullen als Referring Member, U komt dit vanzelf tegen als U besluit om u aan te melden als nieuwe bookcrosser. Dit is en blijft geheel gratis.

Oh ja, er is ook een Nederlandse website (www.bookcrossing.nl) waar veel van je mogelijke vragen beantwoord kunnen worden

Heel veel leesplezier!
Sneeuws

---
Meegenomen van een gezellige meeting in Eindhoven.
---
Voor Meerloop.

Goede reis, boek! En laat je nog iets van je horen?
Veel leesplezier voor de gelukkige vinder.

Farewell, book! Find pastures new! And please tell me about your travels...

Adieu, cher livre! Bon voyage! N'oublie pas de me raconter où tu vas!

Machs gut, liebes Buch, und melde Dich mal wieder!

---

---