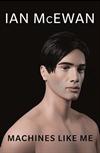 Machines like me
Registered by

OBCZ-TeddysDen

of
Herisau
,
Appenzell Ausserrhoden
Switzerland on 12/29/2019
2 journalers for this copy...

Journal Entry
1
by

OBCZ-TeddysDen

from
Herisau
,
Appenzell Ausserrhoden
Switzerland on Sunday, December 29, 2019
it is going to spy-there in January
---

Journal Entry
2
by

OBCZ-TeddysDen

at
Herisau, Appenzell Ausserrhoden Switzerland on Sunday, December 29, 2019
Ian McEwan has written up a story which - as he mentioned - has been on his mind for some time.
It is the story of Charlie and Miranda and "The Machine" Adam, a lifelike robot of a distant future… He is able to "feel" and "fall in love" and has the absolute memory - meaning he is connected to the internet at all times and has access to ALL files there. But one thing the programmers of Adam had not taken into account: that humans were sometimes, some say at all times, irrational beings, and Adam fails to consider this fact of human life, he simply is not able to grasp, for instance, the concept of double standard. So the drama takes it's course. Charlie wants to be with Miranda, his next door neighbour, living in the apartment above his, and decides in his wish to get her closer, that she too would help personalizing Adam and lets her do that by herself.
She does just that and it comes as no suprise that she makes him love her. The worst nightmare of most man has come upon Charlie when she makes use of her toyboy.
Without giving away to much here the story takes at times a turn to the absurd and I kept having fits of outright laughter… McEwans tone and style might be familar to his readers, for me it has been his first novel..He must have greatly enjoyed writing this saga about a humanoid robot.
It becomes eerie when we consider that this actually is our future..McEwan mixes time and events as he pleases and even turn them into opposite outcomes as they in reality happened, the reader can never be sure where the truth really lies when he or she is engulfed by the plot. I could not wait to end it and then….Well, read this fantasy (of a male writer of course) for yourselves. Enjoy!
http://ianmcewan.com/books/machines.html
---

Journal Entry
3
by

OBCZ-TeddysDen

at
Vegelateria in Zürich, Zürich Switzerland on Tuesday, January 14, 2020
Geht an spy, bitte retour.
---

---