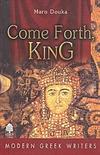 Come Forth, King
Registered by

Delphi_Reader

of
Δελφοί - Delphi
,
Fokida
Greece on 12/17/2019
2 journalers for this copy...

Journal Entry
1
by

Delphi_Reader

from
Δελφοί - Delphi
,
Fokida
Greece on Tuesday, December 17, 2019

This book starts its journey with BookCrossing from Delphi, Greece
~~~~~~~~~~~~~~~~~~~~~~~~~~~~~~~~~~~~~~~~~~~~~~~~~~~
"Who was Alexius Comnenus who would wage war in East and West to save Byzantium from the edge of the abyss? Who were the woman who loved him? Who was it who tried to poison him? Why did his daughter, Anna Comnena, hate her brother, John, the co-Emperor? Why did his wife, Irene Duca, promote Nicephorus Bryennius for the throne?
People and events; failures, tears and sorrows, hopes, visions that faded, joys evaporated, meanness and passion. "Come Forth, King" attempts to revive the final glimmer of Byzantium and to take us back on a journey to those difficult years through the narrative of an insignificant palace member who, now retired to Sinope in Pontus, recalls the past with awe. "
~~~~~~To the person who found this book:~~~~~~
Welcome to BookCrossing.com, where we are trying to make the whole world a library!
If you have not already done so, please make a journal entry so we know this book has found a new home. Drop a few lines on where and how you found this book and what you thought of it. You don't need to join BookCrossing and you can remain completely anonymous. However, I encourage you to join so that you can follow this book's future travels. It's fun and free, and your personal information will never be shared or sold.
This book is now yours, and you can keep it if you choose, although I would love you to read and then share it. You can pass it on someone you know or release it once again in the wild, leaving it on a park bench, a phone booth, a hostel lobby...wherever you think it's suitable for the book to continue it's journey. If you pass it along, please make a release note to let others know where you left it.
I hope you enjoy the book!
---

Journal Entry
2
by

Delphi_Reader

at
Δελφοί - Delphi, Fokida Greece on Friday, May 22, 2020

I've read this book many years ago and decided to read it again as I didn't remember much about it. This is a copy in English I obtained for BookCrossing, but I prefer to read a book on its original language if possible, so I read it in a Greek copy I happen to have. I had a quick look and the English translation seems fine.
I admit that it takes some effort to get into the story at first. There are many names and it's confusing to know who is who and who relates to whom. But there are a couple of useful family trees at the end of the book that help. So, after getting the hang of it, the book flaws more smoothly. The narrator sometimes goes from one point of time to another and focuses on different persons too, so this might be somehow confusing, but in general I found this imaginative reconstruction of the era and of its real people and events quite interesting. I'm not enthused about the book but I liked it.
What I found utterly confusing though, was the epilogue of the book. While reading the book I often identified the narrator with Taticius, so the relevation at the end of the book and the way it comes seemed weird and over the top and I feel I might have missed the point or something... Furthrmore I was expecting some conclusion to the story mentioning what happened to the junior Alexius whom the narrator was addressing after all...
This is definitely an interesting and quite unique book due to its prose and subject matter, but not extraordinary.
---

Journal Entry
3
by

Delphi_Reader

at
Royal Flush Sweepstake, A Bookcrossing member -- Controlled Releases on Monday, July 13, 2020
Released 3 wks ago (7/13/2020 UTC) at Royal Flush Sweepstake, A Bookcrossing member -- Controlled Releases
CONTROLLED RELEASE NOTES:
---
Journal Entry
4
by
Andrea99
at
Brighton & Hove, East Sussex United Kingdom on Tuesday, July 21, 2020
Received in the mail on 21st July as a Royal Sweeps book! Thank you so much - not heard of this man so I'll be interested to read!
---