Chicks Dig Gaming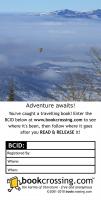 Registered by

GoryDetails

of
Nashua
,
New Hampshire
USA on 1/18/2020

This Book is Currently in the Wild!
1 journaler for this copy...

Journal Entry
1
by

GoryDetails

from
Nashua
,
New Hampshire
USA on Saturday, January 18, 2020
I got this softcover from an online seller. It's a collection of essays on different types of gaming, by female authors.
Later (December, 2020): This one spent some time lost behind a side table, thanks to the cats' habit of walking across anything stacked on the tables and knocking them down. Anyway - it's an enjoyable collection, with a variety of viewpoints on everything from gender issues in gaming to racist stereotypes to plot and character in specific games to personal memoirs about what gaming meant to the authors. There are accounts of relationships made, lost, and sometimes renewed via gaming; of raising kids to enjoy gaming; of finding ways to use gaming skills and ideas in real-world situations - and more.
Among my favorite entries:
"'round the World with Nellie Bly" by Rosemary Jones, an essay about the actual vintage board game based on Bly's world travels. (I'm reading
Ten Days in a Mad-House
by Bly, so this one stood out.)
"How I Learned to Stop Worrying and Love the Numbers: a Girl, a Rulebook, and Arithmetic" by Seanan McGuire (author of the marvelous "Wayward Children" series among many, many others): this one describes her growing involvement in tabletop games, and her delight in mastering the complex math required by some.
"An Interview with Lisa Stevens" - Stevens is the CEO and founder of Paizo Publishing, a major RPG game publisher, and the interview has some fascinating points.
"An Axe Up My Sleeve" by Cheryl Twist features her own list of "Pathfinder"-style cards for use in real life - an Elixir of Life at a coffee shop, for example, or the Potion of Cat's Grace ("to avoid stepping on the one that sneaks up and stands directly behind me"). I need one of those!
"THAC0 of a Gamer Girl" by Jaleigh Johnson refers to "To Hit Armor Class 0"-style tables used in D&D and other tabletop RPGs - and recounts a hilarious gaming session in which the players got into a debate with the DM re a very unusual circumstance indeed. It's written beautifully and reminded me of many such situations in my own gaming past - a poignant memory as not all of my old gaming friends are still with us.
I also enjoyed the shoutouts to the early text-based games and the systems like Intellivision. And the games that are discussed here range from intricate military-strategy games to goofy card games, vintage computer games and up-to-date MMORPGs - everything from D&D to Munchkin to World of Warcraft, Magic to Call of Cthulhu to Adventure...
---

Journal Entry
2
by

GoryDetails

at
Little Free Library, New Searles Rd [OBCZ] in Nashua, New Hampshire USA on Wednesday, December 16, 2020
Released 4 mos ago (12/16/2020 UTC) at Little Free Library, New Searles Rd [OBCZ] in Nashua, New Hampshire USA
WILD RELEASE NOTES:

Guidelines for safely visiting and stocking Little Free Libraries during the COVID-19 pandemic, from the LFL site
here
.
I left this book in my Little Free Library just ahead of a snowstorm; hope someone enjoys it!
[See other recent releases in NH
here
.]
*** Released for the
2020 D for December
challenge. ***
*** Released for the
2020 What's in a Name
challenge, for the embedded "Chick" in the title. ***
---

Journal Entry
3
by

GoryDetails

at
Nashua, New Hampshire USA on Tuesday, April 13, 2021
This one's gone unclaimed for a couple of months now, so I'm taking it out of rotation to make room for some different books.
---

Journal Entry
4
by

GoryDetails

at
Little Free Library, Heart Pond Beach in Chelmsford, Massachusetts USA on Wednesday, April 14, 2021
Released 3 wks ago (4/14/2021 UTC) at Little Free Library, Heart Pond Beach in Chelmsford, Massachusetts USA
WILD RELEASE NOTES:
---