Kitty's Greatest Hits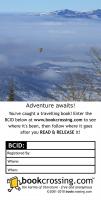 Registered by

GoryDetails

of
Nashua
,
New Hampshire
USA on 1/14/2020
3 journalers for this copy...

Journal Entry
1
by

GoryDetails

from
Nashua
,
New Hampshire
USA on Tuesday, January 14, 2020
I got this ex-library hardcover from Better World Books. It's a collection of short stories, some featuring Vaughn's radio-personality (and werewolf) heroine Kitty Norville, and others dealing with different characters from the same supernatural-rich world of shape-shifters, vampires, mermaids, and more. And I enjoyed the collection very much, whether the stories dealt with the back stories of the main characters from the novels or darted off to the side. Among my favorites:
"A Princess of Spain", set in 1501, with a young Catherine of Aragon facing her future as the wife of England's Prince Arthur. Little does she know that Arthur will die young, though she will eventually be queen anyway - married to his brother, the future Henry VIII. [We know how that turns out, but for the purposes of this story things look a little brighter.] There is a vampire in this story, one whose actions may be a turning point in history...
"Conquistador de la Noche", set (obviously) in the conquistador era in South America. It's something of an origin story for the character Rick from the novels, but it works quite well on its own as a classic tale of vampires - and one man whose inner strength let him battle his own demons.
"The Book of Daniel", which suggests an interesting explanation for Daniel's ability to survive in a den of hungry lions!
"The Temptation of Robin Green" - this one's very intriguing, almost SF, and apparently set in a near future. Robin works at an underground lab where rare mythical creatures are being detained for scientific purposes - creatures including a griffin, a unicorn, a mermaid, a werewolf, and a vampire named Rick, who may indeed be the same one from "Conquistador". When a new arrival turns out to be a selkie, Rick tries to warn Robin to beware of his seductive powers (rather amusing, as it's the vampires who usually get the role of seducer), but Robin opts not to listen. Things go about as well as one could expect, a conclusion familiar to those who've read or listened to selkie lore in story or song, but along the way Robin makes some choices that may give a better future to the lab's prisoners.
"Wild Ride" has a modern setting and introduces a young gay man to the werewolf life, via his passion - auto racing.
I enjoyed the stories about Kitty, too, from one just before she "came out" as a werewolf to one where she encounters a member of the fey - in a mosh pit, yet.
There's a section of author notes at the end, which I appreciated - I like to hear the author's view of collections like this, with tidbits about the origins of each tale. And Vaughn includes a playlist of music she had in mind for each story, for extra fun.
[There's a
TV Tropes page
for the series, with some entertaining tidbits.]
---

Journal Entry
2
by

GoryDetails

at
Nashua, New Hampshire USA on Wednesday, June 03, 2020
I'm adding this book to the latest round of the
Vampire Bookbox
, which will be on its way to its next stop soon. Hope someone enjoys the book!
---

This book rode to the end of the box, and has now joined my shelf. I've read it before, but I'm up for a re-read!
---

This was as fun as always! I actually re-read most of it twice, flipping back through to re-read some stories again the next week. I guess I really needed a familiar, hopeful tale in the midst of all the uncertainty in the world right now.

I tend to forget how much I really enjoy the Kitty Norville series, but there is a reason I kept up on it after my interest fell off for most urban fantasy stories. Her characters are so wonderfully human, and the simple, engaging writing lets them shine.

I have a next travel spot in mind for this book, so I am marking it as reserved.
---

Sent out as part of the Halloween Exchange. The recipient has a couple of the Norville novels on their wishlist and shelf, so hopefully they haven't read this one yet. (Or maybe they'll want a re-read, like I did!)
---
Journal Entry
6
by
bamaforever
at
Clanton, Alabama USA on Monday, October 26, 2020
Thank you so much emmejo for including this in the AMAZING package you sent me for the Halloween exchange. I feel totally spoiled. :-)
I have not read this one yet and I definitely look forward to reading the stories in this collection. Thank you!
---