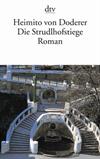 Die Strudlhofstiege oder Melzer und die Tiefe der Jahre
2 journalers for this copy...

Wien in den Jahren 1910/11 und 1923-25. Im Mittelpunkt des Geschehens steht der Amtsrat und Major a.D. Melzer, dessen Leben irgendwie immer an ihm vorbeiläuft, bis er endlich doch zu sich selbst findet. Ein Großstadtroman mit der Aura des Lebens, »so, wie es ist«.

Vienna in the years 1910/11 and 1923-25. At the center of the action is the magistrate and Major a.D. Melzer, whose life somehow always runs past him until he finally finds himself. A big city novel with the aura of life, "as it is".
---

Journal Entry
2
by
xtrdnry
at
SI Cafe in Templestowe, Victoria Australia on Friday, December 06, 2019
Leaving on the shelf at SI cafe.
---

---