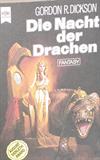 Die Nacht der Drachen
1 journaler for this copy...

Original-Titel: The Dragon and the George
James Eckert hat Geschichte des Mittelalters studiert. Er hofft auf eine Assistentenstelle, doch seine Hoffnung erfüllt sich nicht. Um Geld zu verdienen, nimmt seine Freundin Angie einen Job im Parapsychologischen Seminar an, wo man Versuche anstellt, mit Parallelwelten in Verbindung zu treten. Wider Erwarten gelingt der Versuch, und Angie verschwindet.
Entsetzt und wutentbrannt zwingt James Eckert den Professor, exakt dieselben Versuchsbedingungen noch einmal herzustellen. Doch dieser Versuch gelingt nur zum Teil: James findet sich zwar in der Nähe Angies wieder, aber im Körper eines Drachen namens Gorbash und in einer Welt der Zauberei, in der intelligente Drachen in erbitterter Fehde mit stolzen Rittern liegen, den Georgen, die mit Leidenschaft gegen Drachen kämpfen.
Sir James als Gorbash der Drache hat also keinen leichten Stand, als er auszieht, um Angie zu retten.
---