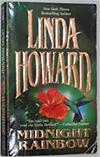 Midnight Rainbow
Registered by

rainbow3

of
Edinburgh
,
Scotland
United Kingdom on 12/2/2019
3 journalers for this copy...

Book burble: Jane Hamilton Greer:
Was she just a wealthy socialite in over her head, or was she really engaged in espionage that could compromise U.S. interests for years to come? The only certainty was that she was being held captive, and that her very wealthy, very well-connected father wanted her back-now.

Grant Sullivan:
He'd been one of the government's most effective agents, and he'd agreed to rescue Jane. Finding her was easy; getting her out was something else. N the time they spent together, questions of guilt and innocence began to fade against the undeniable reality that two people from such different worlds should never have met.

MIDNIGHT RAINBOW – LINDA HOWARD (1986) | ISBN: 1551661535 (Nth American PB) | Publisher: MIRA
---

"Taken captive in the middle of a conspiracy of international proportions, wealthy socialite Jane Hamilton Greer finds hope in government agent Grant Sullivan, who finds his mission complicated by his feelings for Jane."

"Howard's writing is compelling." -Publishers Weekly. Yup, going alone whole heartedly with that! Howard's experienced at producing compelling suspense, that can harbour surprises. Here cracking character portraits show competing wills clashing enough to offer sparks of attraction that (no shock) won't be denied. Sizzle, sizzle, sizzle!!!

Fine title of course! You'll note the word 'Rainbow' there. Always nice to get another Rainbow on my bookshelf!

Mini publishing detail curiosity... I note this copy, a 1996 reissue, gives a copyright date of 1986, however fantasticfiction.com lists the copyright as 1984. Och, maybe I'm the only one finding that curious…?
---------------------

Special Advent Project, book now it's wrapped and numbered the seventh book of my 2019 Advent project. Posted with some other books as a controlled release it will be a surprise for the recipients.
---

Journal Entry
3
by

Flutterbies9

at
Meare, Somerset United Kingdom on Wednesday, January 8, 2020
Received as part of the book advent parcel for Christmas 2019 from rainbow3.
---

Journal Entry
4
by

Flutterbies9

at
Meare, Somerset United Kingdom on Sunday, January 12, 2020
Frankly, I had thought that this would be something that I would glance through and pass on quickly as this is not a genre I 'normally' favour, however, I found myself more interested than I had expected and read this quite quickly as a very welcome diversion on one of those nights that I was having difficulty with sleeping.

This was an unbelievable plotline very much in the style of a Bond movie plot (but fun nonetheless) however the unusually feisty Jane and the macho Grant were a good match. Their adventures were 'Bond' flavoured too but it romped along at a great pace and the humour was greatly appreciated throughout.

Not actually got a plan for this yet but it should have a greater audience so let's see how things go!
---

Journal Entry
5
by

Flutterbies9

at
Book Box, -- By post or by hand/ in person -- United Kingdom on Friday, July 22, 2022
Released 6 mos ago (7/23/2022 UTC) at Book Box, -- By post or by hand/ in person -- United Kingdom
CONTROLLED RELEASE NOTES:
Sent out in the Random Bookbox on another round of adventures.
---

Journal Entry
6
by

Plum-crazy

at
Brighouse, West Yorkshire United Kingdom on Saturday, January 14, 2023
Taken from the Random Bookbox. To be honest, I'm a bit off romantic suspense but have enjoyed this author in the past so will give this a go...
---