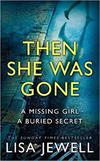 Then She Was Gone
Registered by
Bookgeo

of
Pirkkala
,
Pirkanmaa / Birkaland
Finland on 11/26/2019
2 journalers for this copy...
Journal Entry
1
by
Bookgeo

from
Pirkkala
,
Pirkanmaa / Birkaland
Finland on Tuesday, November 26, 2019
An airport purchase from Bergen while returning from my birthday trip.
The story had enough suspense to keep the sorrowness of an ending holiday away!
--
A paperback by Arrow Books, 2017, 424 pages.

Synopsis from Goodreads:

"She was fifteen, her mother's golden girl. She had her whole life ahead of her. And then, in the blink of an eye, Ellie was gone.

It's been ten years since Ellie disappeared, but Laurel has never given up hope of finding her daughter.

And then one day a charming and charismatic stranger called Floyd walks into a café and sweeps Laurel off her feet.

Before too long she's staying the night at this house and being introduced to his nine year old daughter.

Poppy is precocious and pretty - and meeting her completely takes Laurel's breath away.

Because Poppy is the spitting image of Ellie when she was that age. And now all those unanswered questions that have haunted Laurel come flooding back.

What happened to Ellie? Where did she go?
Who still has secrets to hide?"
---
This book was looking for a new reader at Tampere pre-Xmas meet-up, and since nobody else was interested, I added it to my ever-growing TBR pile. :) Thanks for the book and the company, Bookgeo!
---
Journal Entry
3
by
Mecu
at
Hämeenlinna, Kanta-Häme / Egentliga Tavastland Finland on Saturday, May 30, 2020
"But one wrong move, one tiny kink in the timeline, it was all over. Not just their love story, but all of it. Youth. Life. Ellie Mack. All gone. All gone forever. If she could rewind the timeline, untwist it and roll it back the other way like a ball of wool, she'd see the knots in the yarn, the warning signs. Looking at it backwards it was obvious all along. But back then, when she knew nothing about anything, she had not seen it coming. She had walked straight into it with her eyes open."

A fast-spaced thriller when it's obvious from the start what happened and who did it, but you keep reading because of what came after. What happens to a family when one of the members goes missing? What happens to the surviving members? What happens to the kidnapper? What happens to those who know their secret?

One of things I liked about the book was the multiple view points. We hear Laurel's story but also Ellie's story, her kidnapper's story and other voices which add something new to this thriller. And yet it was easy to guess the guilty person, there were some plot twists that I didn't see coming.
---