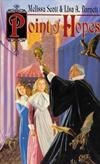 Point of Hopes
Registered by

GoryDetails

of
Nashua
,
New Hampshire
USA on 11/15/2019

This Book is Currently in the Wild!
1 journaler for this copy...

Journal Entry
1
by

GoryDetails

from
Nashua
,
New Hampshire
USA on Friday, November 15, 2019
I got this hardcover at the Book Cellar, for another release copy.
I enjoyed
Point of Dreams
, the follow-on book to this one, before I first read
Point of Hopes
. I had hoped that this book, which introduces the characters of Rathe and Eslingen, would feature their growing attraction, as they're a couple by the second book. But while there were a few hints of interest here and there, they were the veiled, almost casual thoughts that any two strangers with busy lives of their own might have when scoping out someone else - and with all the complications in their way, perhaps they were both wise not to push things any faster! Still, it was a bit disappointing.
That said, I enjoyed the book very much in its own right. I'd picked up a lot about Astreiant and its society from the other book, but I got even more here; the authors have devised an intricate, richly-rendered world, with elements of magic that include an immense reliance on astrology - clocks are vital, as the more accurately one knows one's own birth-stars, the more accurate are the predictions that can be made. And the stars are used for everything from choosing a career to solving crimes... except that in this case, young people are disappearing, and there's no trace of anything in the stars to indicate what's become of them.
Pointsman (aka detective) Rathe is investigating the growing number of disappearances, trying to distinguish between the usual runaways and occasional victims of violence and these mysterious vanishings. Eslingen, a soldier recently mustered out, is looking for work and a place to stay, and gets involved in the case when he becomes the bodyguard/bouncer at an inn that's being suspected in the disappearances.
There are delicate maneuverings between the different points (police precincts), and as there's about to be a change in the ruler of the city - a queen who is chosen/elected at intervals based on the stars - there's more than enough upset in the city without growing unrest among the working classes.
The story advances deliberately - one might say slowly; I noticed this with the other book as well, and while I enjoyed it, I can see that it might be way too leisurely for some tastes. The book's more about the details of daily life, cultural practices, relationships, and police work than anything else, and I found it more enjoyable as an immersion into this lush, different time and place, without worrying too much about if or when the crimes would be solved. [This is one of the few fantasy novels I've read in which the characters come out of a fight with more concern over the damage to their clothing than to themselves; apparently, new clothes, or even laundered and patched ones, can take a big bite out of the old coin purse!]
The books take place in a world where there is little if any sexism; most of the higher posts of authority seem to be held by women, but it isn't clear that this is a requirement or simply the way things are at the moment. While marriages for love, wealth, and/or influence are quite the order of the day, it's common, and accepted, for people to set up extra-marital relationships, often same-sex ones.
In place of gender bias, the society here has its own ways to try and maintain some kind of hierarchy, but it's more of a strong class system than anything else - with the kicker that one's stars can make a huge difference as to how high one might rise, and where.
Despite the meandering tendency, there is a plot here, and the mystery is eventually unraveled. And, if anything, I thought that the climax of the story came too quickly; after so many pages of setup, the tale was concluded in a flash. But that's a minor complaint, as is the occasional repetition of facts - we follow the story from the separate viewpoints of Rathe and Eslingen, and if one of them learns the same info as the other it's usually presented entire in both viewpoints. That aside, I liked this book and
Point of Dreams
, and was pleased to see that there are more books in this setting.
---

Journal Entry
2
by

GoryDetails

at
Little Free Library, Kilton Public Library in West Lebanon, New Hampshire USA on Monday, November 18, 2019
Released 3 wks ago (11/18/2019 UTC) at Little Free Library, Kilton Public Library in West Lebanon, New Hampshire USA
WILD RELEASE NOTES:

I left this book in the handsome Little Free Library outside the public library; hope someone enjoys it!
[See other recent releases in NH
here
.]
---