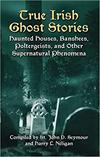 True Irish Ghost Stories : Haunted Houses, Banshees, Poltergeists and Other Supernatural Phenomena
Registered by

Delphi_Reader

of
Δελφοί - Delphi
,
Fokida
Greece on 11/10/2019
2 journalers for this copy...

Journal Entry
1
by

Delphi_Reader

from
Δελφοί - Delphi
,
Fokida
Greece on Sunday, November 10, 2019

This book starts its journey with BookCrossing from Delphi, Greece
______________________________________________________
" Poltergeists and banshees, spirit-filled houses, and deathbed scenes pervaded by specters fill this enchanting treasury of tales based on supernatural phenomenon. Compiled from Ireland's abundant reserve of ghost stories, this richly varied collection of legendary and ancestral phantoms, uncanny forewarnings of death, and a host of other unearthly experiences relies on the memories of ordinary Irish folk scattered throughout the isle.
The collection of entertaining tales was the offspring of a newspaper article in which authors St. John D. Seymour, a Church of England priest, and his colleague, Harry L. Neligan, asked contributors to send in their favorite ghost stories, which many happily did. Classified by geographical area, the simple yet compelling narratives -- at once disarming, convincing, and illuminating -- provide amazing descriptions of paranormal experiences. An entertaining, authentic glimpse of late 19th- and early-20th-century Ireland and the superstitious natures of its people, True Irish Ghost Stories is a delightful treasury of other-worldly happenings -- to be shared by devotees of Irish lore, mystery lovers, and connoisseurs of the paranormal. "
~~~~~~To the person who found this book:~~~~~~
Welcome to BookCrossing.com, where we are trying to make the whole world a library!
If you have not already done so, please make a journal entry so we know this book has found a new home. Drop a few lines on where and how you found this book and what you thought of it. You don't need to join BookCrossing and you can remain completely anonymous. However, I encourage you to join so that you can follow this book's future travels. It's fun and free, and your personal information will never be shared or sold.
This book is now yours, and you can keep it if you choose, although I would love you to read and then share it. You can pass it on someone you know or release it once again in the wild, leaving it on a park bench, a phone booth, a hostel lobby...wherever you think it's suitable for the book to continue it's journey. If you pass it along, please make a release note to let others know where you left it.
I hope you enjoy the book!
---

Journal Entry
2
by

Delphi_Reader

at
Δελφοί - Delphi, Fokida Greece on Wednesday, November 13, 2019

This book was originally published on the middle 1910s, an era when there was an interest on what we call "supernatural" and many people tried to access the subject through the prism of science. Many tried to find logical explanations and most believed that science will one day decipher such phaenomena,
Not much is known for Harry N. Neligan who might have been simply an aid to John D. Seymour when compiling this collection. Seymour was a well-known clergy man and writter of several books on the supernatural and similar subjects. In order to collect real stories for this book, they placed an advertisement on newspapers, asking people to post them their experiences or any related story they knew of and thought is credible. These ranged from one paragraph long reports to a few pages long description of events or recollections, supplemented by the author's stories or stories of people they were well-acquainted or related with.
Two things I noticed and I mention here are that a) Because many people on this era were taking this subject seriously, many people wouldn't hesitate to talk openly or relate their experiences or anyway what they thought they experienced and b) Due to the importance they were placing on social status, the authors keep relating the credibility of a story with the person concerned eg This comes from Earl so and so, a very sober man or from a Trinity College proffesor or from so and so priest, thus it's credibility is strong etc etc
On the other hand, I liked the approach of the authors (one of them a clergy man), not giving a definite explanation on such phaenomena and not claiming that these necessarily connect to the otherworld or have religious connotations or even have to do with telepathy or whatever. They claim that soon an explanation will be found that might or might not have to do with all the above. A bittersweet feeling reading this a century latter, but their belief was that humanity reached the top of their narrow-minded, materialistic ego and from now (then) on, people will turn on a more scientific, intellectual direction, "lifting the human race to a purer and loftier conception of God and His universe".
I think it doesn't matter if one believes on poltergeists, banshees, ghosts, haunted houses and the like. This kind of books always has some kind of interest, whatever one's approach is on the subject. Here some stories are more interesting than others and some seem more naive than others, while towards the end some stories coming from a legendary past many centruries ago, touch on the folklore and mythical.
I guess sometimes the book might feel a bit repetitive and the narration somehow dry, but if one knows in advance that this is supposed to be a non-fiction collection of events recalled by several different people and not literature, it worths to give it a try. While I didn't find it extraordinary, I enjoyed it a lot and read it in two afternoons.
---

Journal Entry
3
by

Delphi_Reader

at
Supernatural Sweepstakes, A Bookcrossing member -- Controlled Releases on Friday, June 19, 2020
Released 1 mo ago (6/19/2020 UTC) at Supernatural Sweepstakes, A Bookcrossing member -- Controlled Releases
CONTROLLED RELEASE NOTES:
---
Journal Entry
4
by

fictionalfangs

at
Winston Salem, North Carolina USA on Friday, July 17, 2020
---