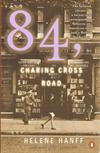 84, Charing Cross Road
2 journalers for this copy...

"This charming classic, first published in 1970, brings together twenty years of correspondence between Helene Hanff, a freelance writer living in New York City, and a used-book dealer in London. Through the years, though never meeting and separated both geographically and culturally, they share a winsome, sentimental friendship based on their common love for books. Their relationship, captured so acutely in these letters, is one that will grab your heart and not let go."
Helene Hanff (1915–1997) was born in Philadelphia, Pennsylvania. In the 1940s and '50s she wrote plays and television scripts in New York City, but found little success until her best-known book, 84, Charing Cross Road, was published in 1970. The book was a smash hit and has been adapted for the radio, stage, film, and television.
_______________
First read this book through
this copy
, but found out I absolutely needed to have my own and bought it later on. Registering it just now, because of a loan over the Wishlist Tag game on the portuguese forum (and even re-read it before sending it off).
Hope you liked it as much as I did!
---

If, as I thought first, this book was a work of fiction, it would be a lovely account of the correspondence of two people that had the love of books in common.
Being the real letters, its even more incredible, as the correspondence grew to a vast number of people: the bookseller family, the bookshop employees, the friends of Helen that had the chance to visit the place, while on a trip to London.
One aspect I thought was incredible - and almost impossible to happen in these days - was the trust between people. Helen would received books and pay latter, even in the beginning when she wasn't known to no one. This trust and friendship was then "payed" by her, with all the food presents she sent from the States to UK - powdered eggs in the 40's? And we think we are very modern :)

Wonderful book that make you feel good about humanity. Thanks conto, for this loan. The book is already travelling back to the shelf where it belongs.
---

Journal Entry
3
by
conto
at
Lisboa (city), Lisboa (distrito) Portugal on Thursday, November 21, 2019
Back home for some time now, sorry for taking my time acknowledging... :(
Glad you liked it! :)
---