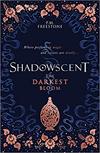 The Darkest Bloom (Shadowscent 1)
3 journalers for this copy...

Book burble: …to be added…

THE DARKEST BLOOM (Shadowscent 1) by P M FREESTONE (Feb 2019) | ISBN: 1407192159 / 9781407192154 (UK PB) | Publisher: Scholastic

This actual copy is an UK PUBLICATION - UNCORRECTED BOOK PROOF, see inset photo.

---

Thank you so much! I've never head of this series, but it is an interesting concept. I'm curious to give it a go.
---

Aside from some typical debut-novel stumbles, I was swept away by this enchanting fantasy.

The biggest world-building choice I admired was the author's decision to create a society with a strong olfactory culture. From that choice, she instantly shifted focus from our typically visual culture, making scent as powerful as image and exploring that impact on everything from religion to figures of speech. Even while typing this, I had to stop myself from using a visual term to discuss a predominantly olfactory experience! It was a wonderful, bold choice that I rarely see fantasy writers make. (I expect to see that more in sci-fi, where having a culture reliant on different sensory input is more likely.)

Although most of our characters feel a bit basic, they are compelling enough to carry the fairly straightforward quest-based plot. Rakel is the only one who feels solidly developed, although Ash improved as the story build his character. There were a lot of character-crafting decisions that felt like "safe" calls and relied on genre expectations. Rarely did a character's decisions or backstory fall outside typical YA fantasy tropes. I suspect that Freestone will build on these with time and confidence, given her willingness to push world-building boundaries.
---

Added to the Wrap It Up bookbox.
---
Caught in the First Sentence Wrap it Up Book Box
---