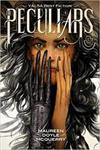 The Peculiars
Registered by

mcsar

of
Richmond
,
British Columbia
Canada on 10/14/2019
3 journalers for this copy...

Journal Entry
1
by

mcsar

from
Richmond
,
British Columbia
Canada on Monday, October 14, 2019
Bought at BetterWorldBooks for a sweeps.

From Goodreads: "On her 18th birthday, Lena Mattacascar decides to search for her father, who disappeared into the northern wilderness of Scree when Lena was young. Scree is inhabited by Peculiars, people whose unusual characteristics make them unacceptable to modern society. Lena wonders if her father is the source of her own extraordinary characteristics and if she, too, is Peculiar.

On the train she meets a young librarian, Jimson Quiggley, who is traveling to a town on the edge of Scree to work in the home and library of the inventor Mr. Beasley. The train is stopped by men being chased by the handsome young marshal Thomas Saltre. When Saltre learns who Lena's father is, he convinces her to spy on Mr. Beasley and the strange folk who disappear into his home, Zephyr House. A daring escape in an aerocopter leads Lena into the wilds of Scree to confront her deepest fears.

This dark and thrilling adventure, with an unforgettable heroine, will captivate fans of steampunk, fantasy, and romance."
---

Journal Entry
2
by

mcsar

at
Plum's Halloween sweepstake, RABCK Sweepstakes/Drawing -- Controlled Releases on Monday, October 14, 2019
Released 5 mos ago (10/15/2019 UTC) at Plum's Halloween sweepstake, RABCK Sweepstakes/Drawing -- Controlled Releases
CONTROLLED RELEASE NOTES:
Congratulations. I hope you enjoy this wished for book. Happy halloween!
---

This surprise arrived in the mail today, and it isn't from the person I sent my package to, so I think I won!

Thank you so much for the wishlist book!
---

This was a solid fantasy adventure, with a creative, steampunk-influenced setting. The author has a talent for descriptive writing, and follows the gothic tradition of incorporating landscapes and houses almost as if they were characters in their own right. The vivid settings will probably be staying with me for a long time (particularly the library Lena works in!) and the strong sense of location makes it easy to picture our characters. Lots of day-dream material here!

The plot is a bit thin, but the focus is on Lena's mental and emotional journey as much as her physical one. The woman at the end of the story is a much stronger one than the girl who started it. I had to roll my eyes a bit at the shoe-horned romances, but for the first one I could also buy early-Lena's gullibility and willingness to let her hope outstrip her common sense. The second one felt like it was just following along expected development, and I was a bit more frustrated by it.
---

Added to the Wrap It Up bookbox.
---
Caught in the First Sentence Wrap it Up Book Box
---