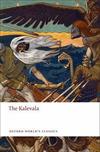 The Kalevala
Registered by

LadyIndigo

of
Orange
,
New South Wales
Australia on 10/13/2019
2 journalers for this copy...
Journal Entry
1
by

LadyIndigo

from
Orange
,
New South Wales
Australia on Sunday, October 13, 2019
because the mail takes longer than an online book delivery i will register a new book so i can get the bcid label in the mail


The Kalevala is the great Finnish epic, which like the Iliad and the Odyssey, grew out of a rich oral tradition with prehistoric roots.

During the first millennium of our era, speakers of Uralic languages (those outside the Indo-European group) who had settled in the Baltic region of Karelia, that straddles the border of eastern Finland and north-west Russia, developed an oral poetry that was to last into the nineteenth century. This poetry provided the basis of the Kalevala. It was assembled in the 1840s by the Finnish scholar Elias Lonnrot, who took dictation' from the performance of a folk singer, in much the same way as our great collections from the past, from Homeric poems to medieval songs and epics, have probably been set down.

Published in 1849, it played a central role in the march towards Finnish independence and inspired some of Sibelius's greatest works.

This new and exciting translation by poet Keith Bosley, prize-winning translator of the anthology Finnish Folk Poetry: Epic, is the first truly to combine liveliness with accuracy in a way which reflects the richness of the original.
---
Journal Entry
2
by

LadyIndigo

at
Orange, New South Wales Australia on Monday, October 21, 2019
congratulations on winning the book and bookmark sweepstakes :)

I wanted to send a wishlist title ... instead i send to you the epic Finnish folktale "The Kalevala" - i see that you have an interest in folk tales so the kalevala ticks that box! plus i chose it because i was born in finland - it is a tale from my heritage

an envelope is travelling separately

happy reading (my copy is a 'brick' and yours is likely to be also!)

;)
---
Journal Entry
3
by

LadyIndigo

at
Book & Bookmark , A Bookcrossing member -- Controlled Releases on Monday, October 21, 2019
Released 9 mos ago (10/19/2019 UTC) at Book & Bookmark , A Bookcrossing member -- Controlled Releases
CONTROLLED RELEASE NOTES:
ordered via abebooks and it shall be delivered directly to you

happy reading

;)
---

Journal Entry
4
by

Delphi_Reader

at
Δελφοί - Delphi, Fokida Greece on Friday, November 01, 2019
---

Journal Entry
5
by

Delphi_Reader

at
Δελφοί - Delphi, Fokida Greece on Tuesday, May 12, 2020

Wow, what a surprise The Kalevala was! Reading Finnish lyrics translated in English while my native language is Greek, was a somehow difficult task for me. Facing all this covid-19 paranoia and other issues in real life didn't help to concentrate either! All that said, although it took me longer to read The Kalevala than expected, I don't regret reading it at all and I found it very interesting!
I enjoy reading folklore and noticing similarities and differences among various themes on world's mythologies and legends. Finland's tales were completely new to me and I enjoyed doing exactly that.
I found some parts of the book more engaging than others ( the cantos about wedding rituals, marriage laments and advice on the newly-weds were quite tiresome, but I liked most of the other cantos), while the prose is somehow repetitive at parts.
This of course is due to writing down and trying to make sense on paper of oral traditions- story telling accompanied possibly by music would feel quite different.
Last but not least, let's face it, the text is quite artificial, Elias Lonnrot tried to connect many different stories into one epic, so the narration feels a bit fragmental at parts and some acts of the heroes don't make much sense.
All in all, I found this an interesting read and I'd like to read it again sometime when I'm more relaxed- preferably in a Greek translation?
7+/10
Thanks once again LadyIndigo for sharing The Kalevala. I'm afraid that several months later, your envelope still hasn't show up. So I'll add a book label of my own on the book.
---