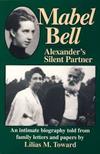 Mabel Bell
3 journalers for this copy...
Mabel Bell (nee Hubbard) grew up in a wealthy, Massachusetts family. She married Alexander Graham Bell, the genius inventor and champion of the deaf (Mabel herself was deaf). From the back cover: (Mabel's words) "He was so wild and full of fun, though rather ashamed that the inventor of the telephone should go wading, but I persuaded him that he should not be a slave to his position." Mabel and AGB had a long and happy marriage. They died just months apart. Donfiction and I have visited Baddeck - the Nova Scotia town where the Bells lived every summer and where the first flight in Canada took place. "The Silver Dart" plane took off from the frozen surface of Bras D'Or Lake in 1909. As Richard Thompson sang, "....Alexander Graham Bell, Note the name and note it well. Father of the modern age. His inventions are all the rage. Of course there was the telephone. He'd be famous for that alone
But there's 50 other things as well
From Alexander Graham Bell...."
Some of Bell's other inventions: Flat vs. cylindrical records, a threshing machine, the hydrofoil, respirator, founder of Science Magazine, tetrahedral cells, decibels & lots more!



















---
Journal Entry
2
by
Bookgirrl
at
Harbord House Pub in Toronto, Ontario Canada on Saturday, June 3, 2023
Released 4 mos ago (6/3/2023 UTC) at Harbord House Pub in Toronto, Ontario Canada
WILD RELEASE NOTES:
Dear Finder of this book: You have found a free "travelling" book, registered on Bookcrossing.com. What is Bookcrossing? It is a world-wide book lover's group. It is basically geo-caching for books. It is free, anonymous and aims "to make the whole world a library". It also fosters a love of reading by leaving free books in public places. Please take a moment to make a Journal Entry (see label inside the cover) so we know it's been found. When you are done with the book, "set it free" and help its journey continue.

---

I was hoping to snag this one! Thanks for bringing it.

(going to jessibud next)
---
LOL....Hydrofoil! That's the word I was trying to remember yesterday. There was one at the Bell Museum in Baddeck. Enjoy the book - and I'll keep an eye out for "Reluctant Genius" - great bio.
---

I read this immediately after reading Reluctant Genius: The Passionate Life and Inventive Mind of Alexander Graham Bell by Charlotte Gray. The Gray biography delves into Alexander's and Mabel's life together and shows both perspectives of their lives and relationship. This book is also on my bookshelf if you want to learn more about it.

Mabel by Liliias M. Toward is written as a composition of Mabel's private letters to family over her life and especially those between her and her husband.

Although she was young when they met and married, she was not some lovestruck girl. She was well aware of his faults and idiosyncrasies and loved him in spite of them. Alex often put his work ahead of his wife and family and although she didn't like it, she accepted it so he could continue with his work that she wholeheartedly supported and believed in. From her letters, we can see her frustration and loneliness but she was a strong woman and forged her own way.

She became deaf as a child and her parents were ahead of their time by refusing to put her in an asylum for deaf children and encouraged to keep her speech and words and to lip read. They hired special tutors for her and Alex was one of those. Despite being a deaf woman, she didn't seem to hold much interest in her husband's work in teaching the deaf but was more supportive of his experments.

She held the household together with her common sense, beyond her years wisdom and frugality.

This was such and interesting take on their lives together and was a good complement to the Gray biography.
---

Journal Entry
6
by

cestmoi

at
-- Controlled Releases, by hand or mail, Ontario Canada on Friday, August 11, 2023
Released 1 mo ago (8/11/2023 UTC) at -- Controlled Releases, by hand or mail, Ontario Canada
CONTROLLED RELEASE NOTES:
Passing along to jessibud.
---

I can't wait to read this! I loved Reluctant Genius!

Thanks for saving this one for me.
---