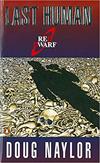 Last Human
Registered by

hyphen8

of
Honolulu
,
Hawaii
USA on 9/27/2019
2 journalers for this copy...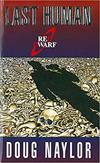 This is not an ordinary book: it's a
BookCrossing
book! BookCrossing books are world travelers - they like to have adventures and make new friends...and every once in a while they even write home to say what they've been doing.
~ ~ ~ ~ ~ ~ ~
Saw a number of episodes of the TV show - picked up on VHS(!) at a local SF convention - but just never seem to get around to this book. I think it's better off finding a new home...
Note: a number of years ago, I had the good fortune to meet a very lovely gentleman named
David Lister
, who was a
historian of origami
and appeared to be almost completely unlike the person in this story, although I suspect he may have enjoyed the occasional curry. :p
~ · ~ · ~ · ~ · ~ · ~ · ~ · ~ · ~
Themes for the 3rd quarter re-do of Secretariat's
2019 NJABBIC challenge
:
3rd quarter: Week 27: titles in color (not b/w) - silver
3rd quarter: Week 29: DEFG author names - DOUG
3rd quarter: Week 30: skulls, skeletons, and cadavers
---

This book has been promised as a
wishlist tag
, so it will be headed out soon.
---

Tuesday, October 01, 2019: off on a new adventure, this time to Virginia!
USPS tracking
9549 0104 3303 9274 7996 17
ETA 10/21/19
Released for Secretariat's
2019 NJABBIC challenge
(week 39: 3rd quarter re-do), AlterEgoZoe's
Spook-tacular challenge
, DragonGoddess's
Tick Tock challenge
, Davros-10's
2019 TV Challenge
, and Davros-10's
2019 Science Fiction Challenge
.
~ ~ ~ ~ ~
I'm so glad you've found this book! Won't you make a journal entry so the previous readers know that it's safe with you?
How and where did you find the book? What did you think of it? What are you going to do with it next?
This is now your book, for you to do with as you please: keep it as long as you wish, pass it to a friend, or maybe even leave it where someone else can find it!
If you've ever wondered where your books go after they leave your hands, join BookCrossing and you may find out: you'll be able to follow your books as new readers make journal entries - sometimes from surprisingly far-flung locations.
BookCrossing: making the whole world a library!
---

What a great thing to come home to a box of wishlist books! Thank you so much for sharing! I am a huge Red Dwarf fan and very much looking forward to this. Rymor has it they're going to start making new seasons with the original cast!
---