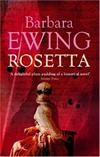 Rosetta
2 journalers for this copy...

All dreams come at a price,

sometimes it's taxes
that take the nasty bite.
---

This book is coming to you for the 2019 Birthday Group!! :D

Due to the high number of people in my everyday life that have, over the past year or more, expected me to read their mind... I have picked up the skill of hypnotism!

However, my desire to hypnotize logic into them has met with utter failure. :(

On the plus side, I have managed to hypnotize this wish list book to make your birthday a little brighter.

Here's to hoping it holds long enough to get the book to go to you!!

(I am a newbie at it, after all! ;) )
---
This was such a great surprise; I've been searching for this book for ages! Thanks so much, HI77 :-)
---
The author is very skilled in evoking the landscapes, smells and general hustle and bustle of Egypt in the beginning of the nineteenth century, when England and France were competing to see who would first decipher the hieroglyphs. The writing is lovely and my only problem here is with the main character, Rosetta. At first, she seemed to be a very scholarly and independent woman for her time, which pleased me. But, with the plot evolving, she became, in my opinion, a hysterical and irrational being, obsessed with her dead husband's secret. Fortunately, there were other characters that kept me reading.
---