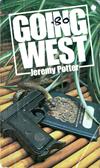 Going West
1 journaler for this copy...
Back says: "'Fly and pursue' are the instructions given to Interpol agent Douglas in this breathless story of a chase that starts in London and moves round the globe as fast as the jetliners he flies on.
Douglas is investigating an international gold-smuggling plot implicating his dead enemy Ashley Wyndham West ... West who has been honoured with a memorial service in Westminster Abbey. Douglas also has personal motives in unmasking West ... to avenge the death of a friend and his own disgrace. But Ashley is still alive, planning once again to make Douglas the fall guy in his murder plans."
---