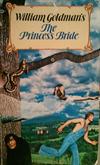 Princess Bride, The
Registered by

hyphen8

of
Honolulu
,
Hawaii
USA on 9/1/2019
2 journalers for this copy...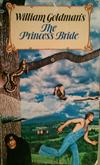 This is not an ordinary book: it's a
BookCrossing
book! BookCrossing books are world travelers - they like to have adventures and make new friends...and every once in a while they even write home to say what they've been doing.
~ ~ ~ ~ ~ ~ ~
This elderly and somewhat frail paperback is an early edition (July 1974) with the red & black text. It may have been
Croyd's
original copy, although he didn't read it in 1974. :p
I am fairly certain that the copy I first read had this rather odd cover art (what's with the snake, anyway?). I definitely remember that when we first heard that a movie version was in the works, my friends and I were very worried that it would "ruin" the book we loved...but that turned out all right. :D
Other copies on my BookCrossing shelf:
12793052
•
14799366
•
14799355
---

This book will be hitching a ride to South Carolina with a
wishlist tag
.
---

Tuesday, September 03, 2019: Buttercup & Westley are on the road again...watch out for those ROUS!
USPS tracking
9549 0103 8562 9246 3714 42
ETA 9/23/19
~ ~ ~ ~ ~
I'm so glad you've found this book! Won't you make a journal entry so the previous readers know that it's safe with you?
How and where did you find the book? What did you think of it? What are you going to do with it next?
This is now your book, for you to do with as you please: keep it as long as you wish, pass it to a friend, or maybe even leave it where someone else can find it!
If you've ever wondered where your books go after they leave your hands, join BookCrossing and you may find out: you'll be able to follow your books as new readers make journal entries - sometimes from surprisingly far-flung locations.
BookCrossing: making the whole world a library!
---

A bonus book sent a long with a book from the wishlist tag game - that's very sweet of you! Thank you so much!
---