The Outsider
4 journalers for this copy...

I read a couple of rave recommendations about this within days of each other - so I bought a copy of this modern classic, to improve myself ;-) 'The great existentialist novel' - whatever that means?
---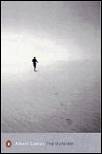 The original French title L'Etranger translates more correctly to 'The Stranger' – in that Meursault is a stranger to normal Christian morality (not my words, they came from an idiot's guide to Camus!)
This is one of those so-called 'modern classics' where more words have been written about it as a philosophical treatise than its lightweight 117 pages deserves (IMHO).
The main theme, or rather the single idea, which barely sustains you through a rather dull & passionless novella, is existentialism! The 'great existentialist novel', apparently, or as Camus himself called it "Absurdism", to whit; life is absurd because there are no universal laws, we cannot be sustained by religious certainties; we exist. Ultimately, we are on our own to control our own destinies, to interact with each other (or not), to suffer the 'slings and arrows of outrageous fortune'. Meursault's oft-repeated phrase "Its all the same to me" points to his disinterest, his detachment, he is an observer in his own life, even his own trial for a senseless murder. He's emotionally removed (I think to the point of psychosis!), which is what the story is about in the end, his failure to meet societies expectations, in terms of beliefs, emotions, and the must basic social conventions. For example, he is willing to marry his girlfriend while admitting to not loving her (whether he is 'in love' or even feels such emotions, I don't think we really know). And, during an examination by a court magistrate, Meursault is asked if he believes in God. He responds honestly, stating that he does not. The magistrate is stunned by this, "All men believe in God! Do you want my life to be void of meaning?"
There is some relief in descriptions of AC's beloved Algiers, but its mostly stolid stuff. The mood reminds me a bit of the tension & amorality around other books set in Africa that i've read recently; Disgrace by J M Coetzee, A Dry White Season by Andre Brink, and to a lesser extent, Heart of Darkness by Joseph Conrad. They also share unlikeable, anti-heroic, middle-aged male leads, and carry a menace of easy violence, and a heat-induced malaise.
Maybe we are spoilt for choice with modern authors who combine believable characters, complex plots, multiple perspectives on the world, and approachable themes & ideas (I don't want to use the term philosophy – as above, forfend the pit of pseudo-intellectualism that I have already fallen into!)
6 *'s as a novel, maybe 8 or 9 as a moral/philosophical tale?
---

Released on
Wednesday, May 12, 2004
at
RABCK
in n/a, n/a Controlled Releases.
Passed on to TheChinaSourcer's older-half (at the Cambridge meetup), I think he was looking for the book with the fewest number of pages ;-)
---
Thanks for this, it's to be a holiday read! I'll let you know how he gets on :)
Passed on to MuttleyUK.
---
Review to follow
---
Release planned for
Saturday, July 17, 2004
at
Apres Cafe-Bar, Summerrow
in Birmingham, England United Kingdom.
To be released at the National Meet.
---

Found book at
Unconvention
in Birmingham - one of the first books to introduce me to book crossing....
I read La Peste (The Plague) for French A level (some 15+ years ago), although I think I probably cheated and read the English version (!)
---