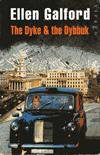 The dyke and the dybbuk
Registered by

violoncellix

on 8/28/2019
3 journalers for this copy...

Journal Entry
1
by

violoncellix

on Wednesday, August 28, 2019
Novel about Rainbow Rosenbloom, lesbian London taxi-driver who meets a dybbuk, the well-known demon of ancient Jewish lore. The book is witty and profound at the same time, though sometimes a bit chaotic.

Here's the first paragraph:

If planet Earth slips off its axis tomorrow, put the blame on Rainbow Rosenbloom.
If we are smacked by a rogue asteroid, ingested by a black hole, or poisoned by something dripping through our tattered ozone canopy, feel free to lay it at her door.
For the melting of the polar caps, the disappearance of the snow leopard and the souring of the seas, Rainbow must take the rap.
Not fair? Well, life isn't.
Note the ground rules: there are 613 commandments that must be obeyed by every Jew alive in the world at any time. To breach even one of these disturbs the universe, and sends the whole of Creation out of kilter. Step on a crack, and break your mother's back.

Over the years 2006-2009, my personal copy of this book travelled through the Netherlands as a ring: https://www.bookcrossing.com/journal/4073232/

Now, another copy has travelled to GoryDetails as part of the lesbian-themed books sweepstakes 2019.
---

Journal Entry
2
by

GoryDetails

at
Nashua, New Hampshire USA on Wednesday, August 28, 2019
Thanks so much for the sweepstakes book; this one looks really good! Will post again once I've finished it!
---

Journal Entry
3
by

GoryDetails

at
Nashua, New Hampshire USA on Saturday, January 18, 2020
I really enjoyed this offbeat tale of the dybbuk Kokos, a vengeance-demon who was sicced on an 18th-century village bride by the bride's bereft and furious girlfriend. Alas for Kokos - who really enjoys her work - she's foiled fairly early on by a powerful sage who battles her to a standstill and traps her inside a tree. Two centuries later she's freed, only to find that the bureaucracy of Hell has changed a lot - and the family that she was tasked to curse has dwindled to one Rainbow Rosenbloom, a London taxi driver - and lesbian. Since the curse involves afflicting the surviving firstborns of the bloodline unto the 33rd generation, Kokos has some incentive to make Rosenbloom procreate, but under the circumstances that may be a problem...
Lots of complications ensue, with a rolicking cast of supporting characters (and potential love-interests for both Kokos and Rainbow) adding to the fun. Very snarky, very entertaining!
[The "demonic bureaucracy" bits reminded me of
Good Omens
,
Eric
, and
The Screwtape Letters
, among others.]
---

Journal Entry
4
by

GoryDetails

at
Nashua, New Hampshire USA on Saturday, January 18, 2020
---

Journal Entry
5
by
elstaplador
at
Cambridge, Cambridgeshire United Kingdom on Friday, January 24, 2020
Oh wow, I'm the winner of the sweepstake! This looks like a load of fun - thank you!
---