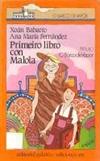 Primeiro libro con Malola
2 journalers for this copy...

Mingos e Manel collen vacacións. Nun día de praia descobren unha señora, xa maior, que os atrae moito. A acción desenvólvese arredor desta mestra xubildada, Malola, persoa chea de humanidade, divertida e cunha gran virtude: coñece e identifícase totalmente co mundo dos nenos. Producto desta relación que se establece entre eles vai se-lo Primeiro libro con Malola.

--

Un pouco frouxo. Penso que é unha desas lecturas que non sobreviven ao paso á idade adulta. O máis interesante, desde o meu punto de vista, é que aporta as primeiras directrices para escribir unha historia... directrices que non seguen os autores na historia principal.
---

Journal Entry
2
by
Cocodras
at
-- Por correo -- In the mail --, A Coruña Spain on Wednesday, January 01, 2020
Released 7 mos ago (1/2/2020 UTC) at -- Por correo -- In the mail --, A Coruña Spain
CONTROLLED RELEASE NOTES:
Para el HULA.
Libero porque soy becera. ¡Buen viaje!
---
Journal Entry
3
by
LibrosHULA
at
Lugo, Lugo Spain on Friday, March 06, 2020
Donación recibida como parte de la cesta navideña 2019 para el proyecto Libros Viajeros.
¡Muchas gracias a todos/as!

La idea de los Libros Viajeros es acercar lectura a pacientes y acompañantes en el Hospital Universitario Lucus Augusti de Lugo (HULA) con la intención de mejorar la estancia hospitalaria.
Si quieres conocer más acerca de la iniciativa, te esperamos en el blog: https://librosviajeros.art.blog
---