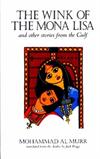 The Wink of the Mona Lisa and Other Stories from the Gulf
1 journaler for this copy...

In The Wink of the Mona Lisa, Mohammad Al Murr lifts away the facade that cloaks Gulf Arab society to find drama, humour and pathos in life, death and the humdrum of daily existence. He creates memorable characters whose thoughts and actions endear them to us.
I recommend reading the
Entry about this book
in the Blog "A year of reading the world"
---


Ein Jahr = Ein Land:
VAE (Vereinigte Arabische Emirate)
The book contains a lot of short stories written from different point of views,
some female, same male. Most of the stories are written as first person, so it can take some time to figure out who is talking...
I liked some of the stories, others not so much. And I am still not sure, if some of them are connected via the protagonists or if the author simple had some favourite names he used more often than others...
At some times I wonderd how old the stories are. I only have been in Dubai for a short trip, but it felt as if he was talking about a different city. Well, the book was written in the 1990s, so "just happend" to me, but actually more than 20 years ago. They actually mention cassett players ;-)
A lot of things have change in Duabi during this time...
And still, some human behaviour in the stories is just timeless....
It took me a while to read the book. Mostly because short stories don't pull me in like a normal book. But a little bit becasue of the style and language.
I don't know if that is because of the athor or because of the translator who, if I got it right, wasn't a professional translater.
It was a little bit wooden and remindes me of some fanfictions - written in a foreign language by hobby authors.
It got better at the end - or I got just used to it.
---