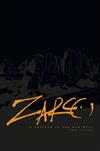 Zarco: A Centaur in the Old West
Registered by
emmejo
of
Cortland
,
New York
USA on 8/8/2019
This book is in a Controlled Release!
4 journalers for this copy...

I thoroughly enjoyed Orlesky's comic
Hotblood!
so I happily backed this sequel on Kickstarter. I enjoyed this one too!
This volume seems less focused on an action-heavy storyline, and moves at a more stately, reflective pace with short, sharp blows of action. The art style fully embraces this, moving to an even more stylized, full-page panel, representative look, with fewer panels attempting a "realistic", literal appearance. It perfectly blends grace and roughness, much like the settings and characters it depicts.
Like the previous tale, this is also a romance between complicated men with checkered pasts and grim motivations.
---

---

Journal Entry
3
by

GoryDetails

at
Nashua, New Hampshire USA on Friday, August 16, 2019
The book arrived safely today; many thanks!
Later: The story opens on a dark note, a continuation of the story in
Hotblood
but with one of the two main characters having fallen during another attempted robbery. Sigh... But life is tough on the frontier, especially for those who want to make a living by stealing from others. Anyway, studly centaur Zarco is deputized to retrieve the surviving robber, red-headed centaur Rook, now in custody in another town. Cue long travel sequences showing the artist's fondness for the spare desert wilderness...
When Zarco meets Rook, sparks fly immediately, and their side-by-side-and-handcuffed-together journey through wintry aspen groves and high mountains is a classic case of the
Chained Heat
trope. There's a pretty sexual-tension-loaded fight, too - and when centaurs fight it's a full-body fists-and-hooves grapple... The nods to Rook's past with Asa are terse but touching, and if the story as a whole is as sparse as the landscape, it still has charm.
[There's a
TV Tropes page
on the webcomic. And for centaurs in Austria during WWI, check out
Stinz
by Donna Barr!]
---

Journal Entry
4
by

GoryDetails

at
Nashua, New Hampshire USA on Monday, April 06, 2020
---

I found this graphic novel to be abstract in the artwork and in the story itself. This made it difficult to follow. But I loved the color palette which is reminiscent of what I think of from watching westerns. I generally had an idea of what was going on and this was made more solid in the author/illustrator's Materials section at the back of the book. I love when they add items like this. You find it more in graphic novels but I would love to see it more in regular novels.

It was fascinating to read and see how the idea came to them while driving through the country in California and how it manifested over time and how it was conceptualized. Some times I think that is the best part of the novels!

And the cover draws you right in! I quickly picked this one from the bookbox!
I read it while imawinn2's shrinking bookbox made a stop here and put it back in the box to find another reader. Happy travels little book!
---
Taking out of Imawin2's shrinking book box. Very excited to find a new graphic novel, and will plan to pass along to a friend's teenaged son who loves the genre, too.
---
---