The Wilder Life
3 journalers for this copy...

The author's "adventures in the lost world of "Little House on the Prairie".

This caught my eye on here as I loved the "Little House" books as a child and have read them all, so I got myself a copy and will (probably!) be releasing it when I've finished.
---

Well, as anticipated I loved this book and was sad when I got to the end - the author's style is both lyrical and easy to read and I followed along avidly as over the course of a year she pursued her dream of visiting all the places Laura Ingalls Wilder had lived. In her search for the real Laura and her story the author also discovered some unexpected things about herself along the way.
Although Mc Clure found some of the sites disappointing and over-commercial, reading the book does make me want to go on my own Laura pilgrimage one day.
---

Sent off to Finland as a RABCK for Chania. I really hope you enjoy this book - happy reading!
---

Journal Entry
4
by
Chania
at
Kokkola, Keski-Pohjanmaa / Mellersta Österbotten Finland on Thursday, August 08, 2019
Thank you so much! I also loved the "Little house" - books when I was young, so I really look forward to read this. And I am sure I will find a next reader for this too!
---

Journal Entry
5
by
Chania
at
Kokkola, Keski-Pohjanmaa / Mellersta Österbotten Finland on Thursday, September 26, 2019
Interesting book! Kind of travel story into a book, both real and imagined life of Laura, and a small travel story as such too. I also loved Little House- books as a child, and also watched the tv-series (crying every single time.. they were so sentimental!) but I never thought what would become of Laura and the rest of the family after the books. I suppose I had a feeling that everything was true in the books, even if I didn't really think about it, I just loved them!
---

Released 7 mos ago (10/22/2019 UTC) at Pirkkala, Pirkanmaa / Birkaland Finland
CONTROLLED RELEASE NOTES:
Sending forward!
---
Journal Entry
7
by
CatharinaL
at
Pirkkala, Pirkanmaa / Birkaland Finland on Thursday, October 31, 2019
A Wishlist RABCK, just in time for my birthday later this week: thank you, Chania!
---
Journal Entry
8
by
CatharinaL
at
Pirkkala, Pirkanmaa / Birkaland Finland on Saturday, November 02, 2019
I read this almost at one go today (I just couldn't put it down; what a cliché but really!) and I have so much to say about it I need some time to sort out my thoughts. For now let me just say this is the most perfect and most delightful book to send to *anyone* as a surprise gift! It is so well written, and there's something so deeply satisfying in reading about the process and the state of being in search of Laura (whether it be the fictionalized Laura of the books; or a Garth Williams illustration; or the real Laura Ingalls Wilder; or the re-fictionalized Laura of the TV show and the various re-enactments; or our inner Laura; or all of these Lauras in a multiple exposure); and even in discovering new and surprising perspectives to her story (end-timers? hippies?)

Like Wendy McClure, I've often thought about my personal relationship to Laura — I was a huge fan of both the TV show and the books at around ages 3 to 10. I have such vivid memories of myself reading the books, watching the show, playing Laura, thinking about Laura, looking at myself in the mirror ("Do I look a bit like Laura?")... I never thought of Laura as a friend or as someone I'd like to have visit me from the past: she was never an Other — it was always me who was Laura. Definitely Laura, never Mary — and being Nellie Oleson would've been downright unthinkable. (I did fantasize about Little Women and Holly Hobbie visiting me and my world, though.)

I re-read the books before I gave them for my daughter to read; and re-discovered my love for By The Shores of Silver Lake in particular. There's something about Laura's time that touches me and never gets old. Reading Silver Lake somehow manages to move me every time whenever I think of all the changes and all the progress/'progress' that took place over Laura's lifetime: she (or at least the fictional character) saw the first railroads being built across the vast prairie — and later in life she was riding motor cars and flying planes. Yet we, the readers, maybe find her log-cabin and butter-churning lifestyle the more alien of the two and have to stop and think it really wasn't that long ago but somehow we have forgotten.

Thank you so much for a marvelous reading experience. I wish I had more copies of the book so I could send a lot of surprise RABCK's!

---
Journal Entry
9
by
CatharinaL
at
Pirkkala, Pirkanmaa / Birkaland Finland on Sunday, November 03, 2019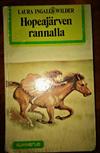 Here's a picture of my lovely 1978 edition of
By The Shores of Silver Lake
(Finnish translation).
---