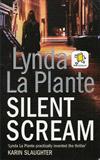 Silent Scream (Anna Travis #5)
Registered by

Tarya

of
Helsinki
,
Uusimaa / Nyland
Finland on 7/23/2019

This Book is Currently in the Wild!
1 journaler for this copy...

Journal Entry
1
by

Tarya

from
Helsinki
,
Uusimaa / Nyland
Finland on Tuesday, July 23, 2019
From lyndalaplante.com:

Hot young British film star Amanda Delany had the world at her feet. She'd had a string of affairs with famous actors, making perfect fodder for the tabloids. Then came a commission to write a tell-all memoir.

When Amanda is found brutally murdered, DCI James Langton's enquiry discovers the sad truth behind her successful façade. Addicted to drugs and starvation diets, she'd almost died from a botched abortion.

Meanwhile, DI Anna Travis is up for promotion, but Langton is blocking her, accusing her of professional misconduct. This latest case could make or break Anna's career.

Pocket Books 2010
---

Journal Entry
2
by

Tarya

at
Havis Amanda in Helsinki, Uusimaa / Nyland Finland on Tuesday, July 23, 2019
Released 3 wks ago (7/24/2019 UTC) at Havis Amanda in Helsinki, Uusimaa / Nyland Finland
WILD RELEASE NOTES:

La Plante's book will be waiting for a reader somewhere near Havis Amanda - far enough though to avoid the splashes from the fountain :)
Havis Amanda was completed and cast in bronze in Paris in 1906. It is a fountain with a female figure rising above it. It's unveiling ceremony took place on 20th September 1908 in Helsinki's main market place. The sculptor of this work is Ville Vallgren (1855-1940). Havis Amanda fountain belongs to Vallgren's charming Parisian art nouveau works. According to Vallgren the central female figure, who has risen from the sea, symbolises Helsinki and the birth of the city.
The fountain also includes four sea lions and water-spouting fish amid the swaying seaweed at Havis Amanda's feet. The sculpture is, for the most part, cast in bronze and stands on pink granite from Vehmaa. The work in total measures five metres in height.
Initially, maiden's nakedness and seductiveness were considered inappropriate and the monument was strongly criticised, especially by women. However, it gradually won people's favour and, as a consequence, has been the centre of innumerable celebrations and merrymaking for decades. The biggest of these celebrations is on the 1st of May. Old photographs reveal that people have been gathering around the Market Place fountain to celebrate since the 1930's.
The work of art belongs to the collection of HAM Helsinki Art Museum.
Source: hamhelsinki.fi
Exciting reading moments to you who've found the book!

* * * * *
Osallistun kirjalla Patsasvapautushaasteeseen 2019. Lisätietoa vapautuspaikasta:
"Suihkukaivon saaminen Helsingin keskustaan oli 1900-luvun alussa käynnistetty hanke, jonka tarkoitus oli ensisijaisesti elävöittää ja eurooppalaistaa kaupunkikuvaa. Helsingin kaupunki tilasi suihkulähde-suunnitelman Pariisissa työskentelevältä kuvanveistäjä Ville Vallgrenilta (1855-1940). Helsingin symboliksi kaavaillun veistoksen toteuttamiseen taiteilija sai varsin vapaat kädet. Suihkulähde kokonaisuuteen kuuluvat veistokset valettiin pronssiin Pariisissa 1906. Paljastustilaisuus oli Helsingissä 20.9.1908.
Suihkulähdekokonaisuuteen kuuluu alastoman neitofiguurin lisäksi altaan reunustan neljä merileijonaa sekä keskusjalustan vettä suihkuttavat kalat. Veistokset ovat pronssia ja vesiallas on punaista rapakivigraniittia Vehmaan Uhlusta. Suihkukaivon korkeus kokonaisuudessaan on 5 metriä. Havis Amanda kuuluu Vallgrenin pariisilaiseen l'art nouveau -henkiseen tuotantoon, jolle on ominaista viehättävä ja taiturimainen muovailu. Vaikka kyseessä on monumentaaliveistos, siinä on katsottu olevan samaa herkkyyttä kuin Vallgrenin pienoisveistoksissa.
Teosta suunnitellessaan Ville Vallgren asui ja työskenteli Pariisissa. Havis Amandan malleina oli tiettävästi kaksi 19-vuotiasta pariisitarta, Mademoiselle Marcelle Delquini ja Mademoiselle Leonie Tavier. Jälkimmäisen piirteitä on erityisesti Porvoon museossa olevassa "pikku-Mantassa". (Tieto on Ville Vallgrenin kirjeestä Porvoon museoyhdistykselle). Vuonna 1907 Havis Amanda oli esillä Pariisin taidesalongissa ja ranskalaiset kaavailivat sen sijoittamista Champs-Élysées'n varrelle.
Heti julkistamisen jälkeen suihkulähteen neitoa alettiin kutsua Havis Amandaksi, myöhemmin tuttavallisesti pelkästään Mantaksi. Vallgrenin itsensä mukaan merestä nousseen naisen hahmo symboloi Helsinkiä ja sen syntyä.
Veistoksen paljastustilaisuuden jälkeen polemiikki teoksen ympärillä alkoi käydä kiivaana. Lehtien sivuilla esitetty kritiikki kohdistui erityisesti naisfiguurin liian kurvikkaisiin muotoihin ja vesialtaan ei-suomalaisiin eläinaiheisiin. Alastoman naisvartalon esittäminen oli uutta Helsingin kaupunkitilassa. Vuonna 1908 naisasialiike vaati Lucina Hagmanin johdolla poistamaan teoksen, joka näyttäytyi heille riettaan katunaisen kuvauksena.
Suihkulähdekokonaisuus pääsi kuitenkin vähitellen helsinkiläisten suosioon ja sen merkitys erityisesti vappujuhlinnan keskiönä on muodostunut tärkeäksi. Itse asiassa jo 1930-luvulla otetuista valokuvista voi nähdä, että Kauppatorin suihkulähteen ympärille on kokoontunut väkeä ilmapalloineen vapunviettoon.
On tarinoita, että Havis Amanda olisi saanut ylioppilaslakin kutreilleen yksittäisten juhlivien opiskelijoiden toimesta jo 1920-luvulla. Vielä 1970-luvulla Manta lakitettiin keskiyöllä aaton vaihtuessa vapunpäiväksi, mutta väkijoukon kasvaessa rituaali aikaistettiin alkavaksi jo vappuaattona kello 18.00. Nykyisin Helsingin seudun korkeakoulujen oppilaskunnat järjestävät tapahtuman vuorovuosina. Kun veistokselle kiipeily turvallisuussyistä kiellettiin 1990-luvun alussa, lakitus- ja pesuperinne eivät katkenneet, vaan avuksi otettiin nosturit.
Teos kuuluu HAM Helsingin taidemuseon kokoelmiin."
Lähde: hamhelsinki.fi
---