Hurray! The Bookplate Creator is back!
We've been promising it for a long time, and now it's finally here... We have a brand new Bookplate creator. Read all about it in this Announcement forum post!
Swordspoint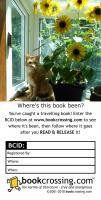 Registered by

GoryDetails

of
Nashua
,
New Hampshire
USA on 8/28/2019

This Book is Currently in the Wild!
1 journaler for this copy...

Journal Entry
1
by

GoryDetails

from
Nashua
,
New Hampshire
USA on Wednesday, August 28, 2019

I found this paperback in this
Little Free Library in Carlisle MA
while dropping off some books of my own, and nabbed it for another release copy. [This edition includes three short stories featuring "Swordspoint" characters: "The Swordsman Whose Name was Not Death," "Red-Cloak," and "The Death of the Duke". There's also some additional commentary by the author, nice additions to the original novel.]
In a time and place which share attributes of Regency London, the Three Musketeers' Paris, and maybe a bit of Lankhmar as well, lethally skillful swordsman Richard St. Vier lives by his blade - and many others die by it. This is a fantasy novel without magic or dragons, set in a world where intrigue, courtliness, style, and a deadly weapon are required for advancement, and plots swirl endlessly. Alec, a recklessly imprudent scholar - and St. Vier's lover - is one of those at risk, or is he among the conspirators?
The mannered, lush storytelling is sensual; the plotting and scheming are of less interest to me, but are well spoken of by those who like such things. I adored the characters, the relationship, the anguish, the hope...
*****
"Snow was falling on Riverside, great white feather-puffs that veiled the cracks in the facades of its ruined houses; slowly softening the harsh contours of jagged roof and fallen beam.... Let the fairy tale begin on a winter's morning, then, with one drop of blood new-fallen on the ivory snow: a drop as bright as a clear-cut ruby, red as the single spot of claret on the lace cuff."
***
"Alec," said Richard. "It really isn't safe for you to be going out alone here after dark. People get wild, and not everyone knows who you are yet."
"No one knows who I am." Alec dreamily laced his long fingers in his hair.... "Look." Alec's eyes, turned to the window, were dark and green, like the water under the Bridge. "It's still snowing. You can die in the snow. You're cold, but it doesn't hurt. They say you get warmer and warmer and then you fall asleep...."
"We can go out later. If anyone is trying to kill you, I'd better know about it."
"Why?"
"I can't let them," the swordsman said; "it would ruin my reputation."
***
"As he drifted off, he seemed to see a series of white images, scenes carved in snow. Frosty gardens, their branches lush with white roses and crystal thorns; ladies with floating spun-sugar hair escorted by ivory gallants; and, for himself, opponents with long bright swords of clear and gleaming ice."
***
"Richard knew he was fighting for his life, and he was terribly happy."
******
[There's a follow-on book, "
Fall of the Kings
"; it's not a direct sequel, more of a "several decades later," but does deal with events that happened in "Swordspoint" and answers a question or two about some of the characters. I didn't find it as satisfying, however, fwiw. There are later books in the "Riverside" universe as well, dealing with different characters and set in different times.]
There's a
TV Tropes page
as well, with some interesting tidbits about this book and the associated stories.
---

Journal Entry
2
by

GoryDetails

at
Main Street (See Release Notes For Details) in Nashua, New Hampshire USA on Sunday, September 8, 2019
Released 3 yrs ago (9/8/2019 UTC) at Main Street (See Release Notes For Details) in Nashua, New Hampshire USA
WILD RELEASE NOTES:

I left this book on a flower planter in front of Martha's Exchange on Main Street during the Sunday farmers' market. Hope someone enjoys the book!
[See other recent releases in NH
here
.]
---