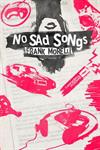 No Sad Songs
1 journaler for this copy...
Selected as our book club read for our September meeting, recommended by author Wayne Barton who we had at a guest.

Blurb reads:

Following a family tragedy, 18-year-old Gabe LoScuda suddenly finds himself thrust into the role of caregiver for his ailing grandfather. Between the shopping trips and the doctor visits with Grandpa, Gabe and his friend John try to salvage their senior year, meet girls, and make the varsity baseball team. It doesn't take long for Gabe to realize that going to school and looking after a grandfather with Alzheimer's is more work than he ever imagined. And when long-lost Uncle Nick appears on the scene, Gabe soon finds that living with Nick and Grandpa is like babysitting two grown men. Aside from John, the only person who truly understands Gabe is Sofia, a punk-rocking rebel he meets at the veteran's hospital. When these three unlikely friends are faced with a serious dilemma, will they do what it takes to save Grandpa? If there's a chance of preserving the final shreds of Grandpa's dignity, Gabe may have to make the most gut-wrenching decision of his life—and there's no way out.
---
I must admit I really enjoyed this novel, I wasn't sure what to expect from it but I was very entertained and read it in just five days (which is very fast for me).

The circumstances that befall 18 yr old Gabe I wouldn't wish on anyone, and I think Morelli's telling of Gabe's emotional state is very well done. Obviously I disagree with Gabe hiding his Grandfather's involvement in a hit and run however having never been in that position I wouldn't know how I'd react (I'd like to think I would tell the truth from the start). I enjoyed the rollercoaster ride his friendship with John went through as they argued and fell out with each other throughout the ordeal but I found it unrealistic that Gabe got the girl (not Sofia the other one) as I don't think that would ever happen (however short lived it was). But I was happy that he formed a relationship with Sofia who I felt was the novel's most interesting character (I would have liked more Sofia in the novel).

Dealing with Alzheimer's and dementia is very difficult and I think this novel does a brilliant job of bringing the enormity of the task of looking after someone with the disease to a YA audience.


I'll now pass this onto KT-J to read.
---