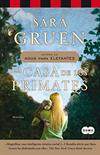 La casa de los primates
1 journaler for this copy...
Regalo del Grupo Coruña, Jumilla (junio, 2019)


Isabel Duncan, científica del Laboratorio de Lenguaje de Grandes Primates, no comprende a la gente pero sí entiende a los simios, especialmente a los bonobos Sam, Bonzo, Lola, Mbongo, Jelani y Makena, que son capaces de razonar y de comunicarse en el lenguaje de signos americano. Isabel se siente más a gusto con ellos de lo que jamás se ha sentido entre los humanos, hasta que conoce a John Thigpen, un periodista centrado en su matrimonio que está escribiendo un artículo de interés humano. Pero, cuando una explosión hace volar el laboratorio por los aires, la crónica de John se convierte en el reportaje de su vida e Isabel se ve obligada a interactuar con los de su propia especie para salvar a su familia de primates de una nueva forma de explotación por parte de los humanos.

"Gruen trata en profundidad y da vida con delicadeza a ese dato estadístico tan a menudo citado según el cual los bonobos y los humanos comparten el 98,7% del ADN. Gruen proporciona a cada uno de sus primates una personalidad particular y describe de forma exquisita su dulzura, humor y curiosidad".
The Dallas Morning News

Sara Gruen siempre le ha fascinado la comunicación bidireccional entre humanos y primates, sobre todo en lo que se refiere a la especie de los bonobos. Ha estudiado lingüística, ha aprendido un sistema de lexigramas para poder comunicarse con ellos y es una de las pocas personas a la que se le ha permitido acceder al Great Ape Trust de Des Moines (Iowa). Allí, los primates la adoran.

Sara Gruen comparte con nosotros en esta nueva novela su experiencia y sus años de investigación, y nos descubre el mundo animal como muy pocos escritores han hecho hasta ahora. La casa de los primates resulta fascinante; es una novela divertida, sensible y profundamente conmovedora en la que Sara Gruen se consagra como narradora consumada y nos permite vernos a nosotros mismos desde un punto de vista totalmente diferente.

Entre los reconocimientos que esta ha recibido por su obra se encuentran el premio al libro del año otorgado por Book Sense, el galardón Cosmo Fun Fearless Fiction, el premio Bookbrowse Diamond Award al libro más popular, el Friends of American Literature Adult Fiction y el ALA/Alex 2007.

---