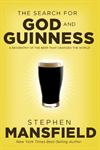 The Search for God and Guinness: A Biography of the Beer that Changed the World
2 journalers for this copy...

From a batch of books left along the side of the street in my neighborhood with a "free" sign. To be released.
---

This book will be available at the July BC-in-DC meeting.
======================

DEAR FINDER,
Welcome to BookCrossing.com, where we are trying to making the whole world a library!


If you have not already done so, please make a journal entry so we know this book has found a new home. You don't need to join BookCrossing and you can remain completely anonymous. However, we encourage you to join so that you can follow this book's future travels. It's fun and free, and your personal information will never be shared or sold. If you decide to join, consider listing ResQgeek (or any of the other journalers) as referring you.


Take your time reading the book, and after you finish, please make another journal entry to record your thoughts about it. This book is now yours, and you can keep it if you choose, though we would love for you to share it. If you pass it along, please make a release note to let others know where you left it.


I hope you enjoy the book!

---

Picked up at today's BCinDC meetup in Rockville, MD. I like biographies of things so this is right up my alley.
---