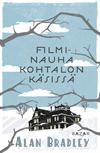 Filminauha kohtalon käsissä
Registered by
bookwormess

of
Kotka
,
Kymenlaakso / Kymmenedalen
Finland on 9/8/2019
3 journalers for this copy...

Journal Entry
1
by
bookwormess

from
Kotka
,
Kymenlaakso / Kymmenedalen
Finland on Sunday, September 08, 2019
Takaa:
"Joulu lähestyy ja mestarimyrkyttäjä Flavia de Luce valmistautuu juhlaan omalla tavallaan, keittelemällä laboratoriossaan lientä, jonka avulla hän aikoo pyydystää itsensä joulupukin.
Joulun alla Flavian kotikartanoon elokuvan kuvausryhmä, jolle Flavian isä on perheen rahavaikeuksien takia antanut luvan kuvata heidän kotonaan. Filmiryhmän mukana saapuu myös kuuluisa näyttelijätär Phyllis Wyvern.

Samalla kun sankka lumituisku yllättää Bishop's Laceyn kylän, kaikki kyläläiset kokoontuvat kartanoon katsomaan suuren filmitähden esiintymistä. Kukaan heistä ei kuitenkaan ole valmistautunut illan dramaattiseen päätösnumeroon: yön pimeydessä yksi paikalla olleista löytyy murhattuna. Miten filminauha liittyy kuolemaan? Ja kuka on voinut lavastaa niin kylmäävän kohtauksen?

Kun lumimyrsky yltyy ja epäiltyjen määrä kasvaa, Flavian on löydettävä kartanon varjoissa piileskelevä tappaja."

Pokkari, 317 sivua.

---

Journal Entry
2
by
bookwormess

at
Kotka, Kymenlaakso / Kymmenedalen Finland on Sunday, September 08, 2019
Released 10 mos ago (9/9/2019 UTC) at Kotka, Kymenlaakso / Kymmenedalen Finland
CONTROLLED RELEASE NOTES:
Tämä löytyi toivelistaltasi. Lukuiloa! :)

**********************
Onnea, olet löytänyt vapauttamani kirjan! Se on nyt sinun - voit pitää sen, antaa tuttavallesi tai vapauttaa edelleen. Kiitos kun ilmoitit löytäneesi kirjan! Mikäli haluat, olet tervetullut liittymään Bookcrossing.comiin. :)

Congratulations, you've found a book I've released in the wild. It's yours now - you can keep it, give to someone you know or release it back in the wild. Thank you for letting me know you've found it! If you want, you're welcome to join Bookcrossing.com. :)
---

Kiitos toivelistakirjasta!
---

Menolippu -lukuhaastetta varten tulee katsottua kirjavarastoja eri silmällä kuin normaalisti, eli katse hakee tiettyjä sanoja. Tässä hain sanaa käsi.
Olen lukenut tätä Flavia de Luce sarjaa nyt tähän asti (onkohan tämä neljäs kirja) ja täytyy sanoa, että olen kyllä tykännut enemmän esimerkiksi tästä neljännestä kuin ensimmäisestä osasta. Olkoonkin, että kovin varhaiskypsä 11-vuotias on kyseessä.
Viihdyttävää lukemista, jotenkin mulla tulee näistä Agatha Christien Miss Marple mieleen...

Löysin tämän Myrtilluksen toivelistalta, ja kun muutenkin on hänelle postia menossa, niin tämä lähtee siinä samalla.

Osallistun tällä Menolippu -haasteeseen, tästä tuli yksi käsi lisää.
---

Tämä lähtee Kurganin varjojen kanssa samaan osoitteeseen.
Viihdyttäviä lukuhetkiä!
---
Kiitos ylläritoivelistakirjasta! 😊
---