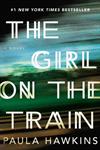 The Girl on the Train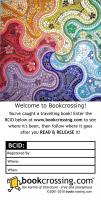 Registered by
silverstarry
of
Berkeley
,
California
USA on 10/25/2019

This Book is Currently in the Wild!
1 journaler for this copy...
The titular girl on the train is Rachel an alcoholic whose husband Tom divorced her to marry his pregnant girlfriend Anna. Rachel moved in with her college friend Cathy, intending to only be there a short time but she has rented a room in Cathy's house for two years. After showing up to a client meeting drunk, Rachel was fired but she still hasn't told Cathy. Instead she continues to take the train to and from the city every day so that Cathy doesn't suspect she's lost her job. Rachel's train ride takes her past her old neighborhood. Every morning she sees a beautiful happy couple who live a few doors down from her old house (where Tom, Anna, and their child still live). Rachel makes up stories about this couple's perfect happy life to distract herself from thinking about Tom's new life. One Friday morning, she sees the beautiful wife kissing another man. She is shocked and even considers telling the husband until she realizes how crazy that would be. She gets drunk on Saturday night (as usual) and wakes up Sunday morning with a bloody lump on her head, an angry message from Tom, and no recollection of what happened the night before. On Monday morning, she learns that the beautiful wife (who is named Megan) is missing. She knows that she was in Tom's (and Megan's) neighborhood over the weekend so she begins to wonder what happened that night. Anna, who still hates Rachel, tells the police that she saw Rachel in their neighborhood over the weekend so they bring Rachel in for questioning about Megan's disappearance. Rachel tells them about seeing Megan kiss someone else. She also learns that while she was drunk, she emailed Megan's husband Scott, claiming to have known Megan through her job at the gallery and asking him to contact her because she has information.

Spoilers (highlight to read):

Rachel blacks out when she drinks. Tom has told her multiple stories about her horrendous behavior when she's that drunk, from insulting his colleague's wife at a dinner party to coming after him with a golf club. He cites this as one of the many reasons why he had an affair with Anna and then divorced Rachel.

The man who Rachel saw Megan kissing was Megan's therapist, Dr. Abdic. They had been having an affair for several months. She told him that after her brother was killed in a motorcycle accident, she ran away from home and moved in with an older guy named Craig MacKenzie. They were doing a lot of drugs and she got pregnant. Although neither of them was interested in having a kid, she had the baby. One night she got into the bathtub with the baby and fell asleep, accidentally drowning the baby. Craig tells her that he's going out for a bit but he never comes back.

The police question Abdic but do not charge him. He then leaks the story about Megan drowning her baby and the press turns her into Megan the Baby Killer. Rachel makes an appointment to see Dr. Abdic, hoping to learn more about him and possibly find something that ties him to Megan's disappearance. Rachel also continues to see Scott and eventually sleeps with him.

When Megan's body is found, the autopsy reveals she was pregnant but neither Scott nor Dr. Abdic are the father.

Scott finally learns that Rachel had never even met Megan. He gets angry when he confronts her, prompting Rachel to wonder whether he killed Megan.

Rachel and Anna both realize that Tom also had an affair with Megan. Rachel also realizes that Tom has been gaslighting her for years. Thanks to her blackouts, he was able to be abusive towards her and then lie to her and tell her that she had been the aggressive one because he knew she wouldn't remember. Anna finds Megan's phone in Tom's gym bag.

So what really happened to Megan? She told Tom that she was pregnant and he killed her.

Despite their mutual dislike, Rachel goes to Anna to tell her about Tom and Megan. She urges Anna to leave immediately. Unfortunately, Tom arrives home and overhears. He tells Anna to go upstairs with the baby. He beats Rachel and she knows that he will kill her. She stabs him in the neck with a corkscrew. Anna waits for him to die and then calls 911. Rachel and Anna corroborate each other's stories about Tom attacking Rachel so she is not charged for his murder.

The short version of this book: all of these people are assholes! They are liars, cheaters, and murderers. But at least Tom got what was coming to him, which made for a satisfying ending.

---
Journal Entry
2
by
silverstarry
at
Little Free Library at 2372 Hilgard Avenue in Berkeley, California USA on Friday, April 03, 2020
Released 2 mos ago (4/3/2020 UTC) at Little Free Library at 2372 Hilgard Avenue in Berkeley, California USA
WILD RELEASE NOTES:

Released this book into a Little Free Library - happy travels!
To the finder of this book:
Welcome to BookCrossing, a unique community of book lovers who are sharing their libraries with the world. This book is now yours to read, enjoy, keep, or pass on to another reader.
The BookCrossing ID, which you entered in the "Enter a BCID" box on the website, is unique to this copy of this book. We would be delighted if you would make a journal entry to say you have found the book. It is fun for other readers of this book to see where the book has traveled-sometimes around the world!
BookCrossing is free to join, completely confidential, and you may remain anonymous (you are known only by your screen name and no one is ever given your e-mail address) and a great deal of fun. Hope you enjoy reading this book!
For more locations of little free libraries in the Bay Area, check out
http://BerkeleyLFL.wordpress.com
---