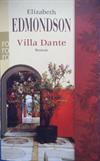 Villa Dante
4 journalers for this copy...

---

meine Mutter hats gelesen - gute Geschichte!
das Buch wird weiterempfohlen
---

Journal Entry
3
by
eligi
at
CADU (Café an der Uni) in München, Bayern Germany on Wednesday, February 05, 2020
Released 3 mos ago (2/7/2020 UTC) at CADU (Café an der Uni) in München, Bayern Germany
WILD RELEASE NOTES:
bring ich zum BC-Treffen mit


Liebe Finderin, lieber Finder,

herzlichen Glückwunsch, du hast ein reisendes Buch gefunden!
Ich hoffe, es gefällt dir.

Gerne gebe ich das Buch in den BC-Kreislauf. Daher freut es mich, wenn du einen Journal-Eintrag machst, damit ich weiß wo das Buch gerade ist und was du damit vor hast.
Wenn dir die Idee von Bookcrossing gefällt, kannst du dich bei Bookcrossing registrieren, das ist kostenlos und anonym. Du kannst dadurch den weiteren Weg dieses Buches verfolgen.

In Österreich gibt es ein eigenes Bookcrossing-Forum:
http://bcat.a-z.in/forum
dort gibt es Hilfe bei Fragen und Infos zu Bookcrossing und auch der Spaß kommt nicht zu kurz.

Viele erholsame Stunden und Spaß beim Lesen!
bookcrossing - Bücher finden, lesen, weitergeben - ist ein wunderbares Hobby - mach auch mit!


Hello! Bookcrossing is an online community of book lovers dedicated to sharing books with each other and the world at large. We are curious to see how far and wide this book will travel and how its readers like it. Kindly make a journal entry to let us know it's found a new reader.
Feel free to read and keep this book, pass it on to a friend, leave it back or somewhere else for the next reader. If you journal this book as a member, then you will be able to follow the book as it travels around. Happy reading!
---
Journal Entry
4
by
Trude_Ring
at
München, Bayern Germany on Friday, February 07, 2020
Bei einem netten Münchner Außer-der-Reihe-Meet-up mitgenommen
---
Journal Entry
5
by
Trude_Ring
at
München, Bayern Germany on Saturday, March 07, 2020
Auch wenn die Geschichte (natürlich) an manchen Ecken "hingestrickt" ist, fand ich sie seeehr schön. Da ich das Buch demnächst gerne freilasse, um anderen auch die Möglichkeit zu geben, es zu lesen, werde ich versuchen, es irgendwo noch für mein reales Bücherregal käuflich zu erwerben :)
---------------------
Delia Vaughan war die gesuchte Person X beim Wer bin ich? Nr. 435 - https://www.bookcrossing.com/forum/14/566967
---
Journal Entry
6
by
Trude_Ring
at
Röhrmoos, Bayern Germany on Saturday, March 28, 2020
Eigentlich hatte ich mir für dieses Buch schon einen Ort zum Freilassen ausgesucht. Nun bin ich aber sehr froh darüber, es als Weitergabe verschicken zu können. Da weiß ich wenigstens sicher, dass es zumindest noch einen weiteren Journaleintrag bekommt :)

@eligi: Da mir der Roman so gefallen hat, bin ich Dir immer noch sehr dankbar, dass Du ihn zum Crimeday-Sonder-Meet-up in München mitgenommen hattest :)
---

---

Ich fand das Buch sehr unterhaltsam und es gab so einiges Wendungen, die teils vorhersagbar waren, teils aber auch nicht. Und ich hoffe, es ist nur dem Zeitgeist (in Zeit in der die Geschichte spielt, also 1957) geschuldet, dass die Engländer gegen über allen Ausländern etwas auf dem hohen Ross sitzen, auch und gerade, wenn sie selbst gerade Ausländer sind. ZB. in dem imemr wieder betont wird, dass Beatrice natürlich keine Italienerin war, sondern - Engländerin.
;-)
---

Als Mitbringsel zu einen schönen Kaffeeplausch erhalten.. Kommt erst einmal auf meinen lesehaufen.
---